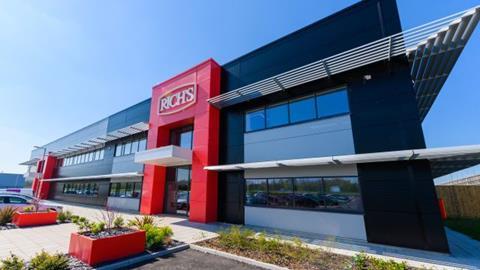 Foodservice and retail bakery supplier Rich Products has started consultations over plans to make up to 100 roles redundant because of the impact of coronavirus.
The business has also revealed that managing director David Hunt left the business "by mutual agreement" at the end of April. Hunt has been replaced by Hazel Tomkinson, Rich's innovation and development director, who has assumed the role of interim managing director.
Tomkinson joined Rich's last year from Adelie Foods. She has worked for businesses including Mars, where she rose to the role of global R&D director.
"At present, Hazel Tomkinson is working closely with our UK business leadership team to ensure we are responding to the current market dynamics in the right way for our customers and associates," said Rich's.
Meanwhile, the business has entered a 45-day collective consultation with staff at its Andover site over proposals that place 100 roles at risk of redundancy.
Rich's consolidated all its production at the 13-acre site last year, where a purpose-built factory houses six production lines and a state-of-the-art development kitchen.
The company told British Baker that, although bakery sales across the grocery and out-of-home markets were beginning to rebuild, the impact of Covid-19 on coffee shops and cafés had been "dramatic".
"As a result, we must ensure our workforce is the right size for our current business and are therefore restructuring across all functions," explained a spokesperson. "This restructure also completes the planned consolidation of our workforce that began with the move from three manufacturing sites to our Andover hub in 2019."
The company added that its long-term UK growth ambitions remained in place.
"We have already adapted our product range to meet new consumer needs as a result of the coronavirus and are currently holding positive conversations with customers to plan for the second half of this year."