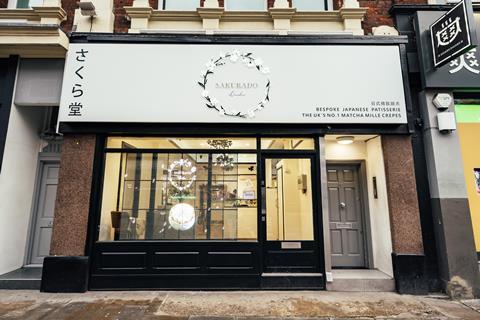 Japanese patisserie Sakurado is set to open its first bricks and mortar site in Chinatown, London.
The 700 sq ft boutique, which also takes inspiration from French patisserie, has initially opened for takeaway, delivery and click & collect. A dine-in area will be open, if government rules allow, once lockdown has lifted in December.
Sakurado is known for its mille crepe – a 30-layer cake comprised of alternating pancakes and pastry cream in various flavours. Other items on the menu will include a wobbly cheesecake, and Japanese pastry staples, such as roll cakes, shortcakes and mochi ice cream. The store also offers coffee and bubble tea.
"Fusion desserts, such as the mille crepe Sakurado is so well-known for, is a popular trend in Japan and growing rapidly in popularity in the UK. Chinatown London's credentials as a takeaway hub have been further enhanced by Sakurado's opening, giving huge variety for Londoners craving something different during this lockdown," said Julia Wilkinson, restaurant director at Shaftesbury, the real estate investment trust that manages a number of shops and restaurants in the district.
Located at 66 Shaftesbury Avenue, the store has been designed in accordance with current Covid-19 guidelines. There is a limit on customers allowed in patisserie at any one time, as well as a one-way system for takeaway and click & collect.
"Having started in 2018, Sakurado has supplied some of the most popular restaurants and chefs in London alongside Chinatown's best bakeries with our mille crepes, prepared daily. Opening our very own store in this buzzing and central location is very exciting for us – we look forward to safely welcoming customers through our doors, and launching in full in December," added Ernest Singh, owner of Sakurado.
Chinatown has a wealth of bakeries at its centre – some offer fusion desserts, such as Kova Patisserie, while others, like Golden Gate Cake Shop, have more traditional offerings.