Traditional sweet buns, a roll call that includes Chelsea buns, iced buns, cream buns and doughnuts, have always been solid sellers in the bakery.
But in the last few years, Nordic-influenced cinnamon buns, brioche buns and new takes on old favourites, such as flavoured hot cross buns, have freshened up the roster.
Buns have been off the scene a little of late, as during and after the coronavirus lockdown many bakeries had to streamline their product range and reduce SKUs for speed and efficiency.
As things get back to a more normal sort of abnormal, a wider range of sweet buns is back on the menu, for example Greggs announced in September that it was bringing back Belgian buns to its shops.
So as buns return to the stage, it's worth having a look and reviewing equipment and processes to see how to achieve the best returns in these more challenging times.
It is a fact that buns can sometimes be a little more complicated, sticky and labour-intensive to produce than some other bakery products. But no bun is too tricky or specialist to make by machine, although cost and scale may be issues, equipment suppliers agree.
"In principle, any handicraft process can be industrialised. The only issue is that sometimes the cost cannot be justified for the volume of production required."
In fact, automation of processes is the key to success in reducing overheads in the bakery and creating consistent products, reducing labour costs and even extending your range, they argue.
"For any form of 'modern bun' there is a suitable solution, especially in the industrial sector. If solutions are not yet available, they can in most cases be developed to fit the problem, or if existing, individually adapted to suit the bakery's take on the product," comments Richard Tearle, general manager at Rondo.
"In principle, any handicraft process can be industrialised. The only issue is that sometimes the cost of the solution cannot be justified for the volume of production required."
As there is almost always a way to get around any dough-handling issues on buns, he says, the degree of automation required is the question. It is a point that Stewart Morris, sales director at Koenig supplier EPP, also makes. Fruited buns, brioche rolls, burger buns – in fact, any enriched doughs – can be produced at scale in an efficient and consistent manner, he says, given the appropriate choice of technology, such as mixers, dividers and ovens.
"Prudent investment in the right quality equipment such as mixers, dividers and ovens can make a huge difference to a bakery. By using machines, you get that repeatability that is required. This also reduces the reliance on skilled workers and addresses the ongoing challenge of recruiting skilled bakers."

Range of solutions
Mono Equipment, which works in partnership with Italy-based Canol, can also offer a range of solutions designed to produce a wide range of bun doughs by replicating time-consuming hand movements with manual labour, says Chris Huish, director of independent sales.
The pastry lines comprise a range of features such as stress-free extruder, cross pinner and satellite head that work in conjunction with each other to avoid any stress or undue tension on the dough.
These stress-free artisan sheeting and laminating industrial pastry lines can be used to produce on-trend cinnamon and Danish buns as well as swirls, Huish says.
The latest trends in bun-style pastries are in fact ideal for upscaling production, and an easy win, as the equipment involved is easy to implement, versatile and offers flexibility across other ranges of products, comments Ann Wells, commercial director at Brook Food, UK distributor for the Italian manufacturer Polin.
Automated bun lines offer the prospect of added versatility, allowing many other products to be manufactured on the same machine. Polin Baker's Table pastry lines can produce around 250 buns per minute dependent on the product specification, says Wells.
Product can be filled, rolled and guillotined as buns such as cinnamon buns are prepared for proving and baking. With the same or additional tooling, products such as croissants, sausage rolls and pizza bases can be created, she says.
Even for a smaller-scale bakery, automation will help to deliver efficiency, consistency and quality. When making a choice, cleanability of the machinery is a key factor to consider in order to maintain efficiency of changeover and prevent cross-contamination, Morris at EPP notes.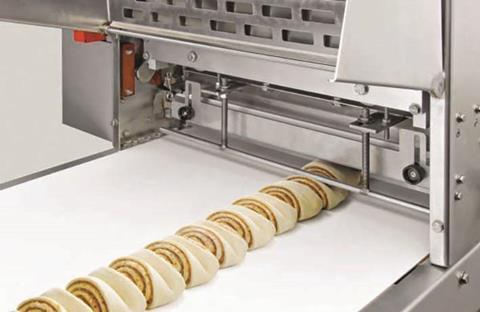 Building up gradually
The move to automation does not need to be 'all or nothing' for the smaller baker. Craft bakers could gradually build up their production with the Rondo Ecoline or Polyline make-up table that is fed by sheeters such as Rondostar 5000, suggests Tearle.
If, in time, production output outgrows this process, larger, faster sheeters could be added and a larger, faster make-up table such as the Rondo Starline may be appropriate.
When full automation is required, upgrading to a dough band feeding line such as the Smartline would be the next move. And when necessary, a bespoke solution can be developed. At the beginning of the year Rondo installed an industrial Mini Cinnamon Swirl line in California.
In this case, regular panning with a normal panning system was not possible due to the stickiness of the dough. In smaller production, the swirls would be placed in the pans by hand. Rondo had to get the 30g swirls into the pans in such a way that the cut surface was flat, and the windings were visible after baking.
It developed a horizontal guillotine with a pan feeding system underneath. The dough strands are wound with the six-row roll-wind accessory and deflected from the horizontal almost into the vertical, then fed to the guillotine. The guillotine cuts all six rows simultaneously directly above the pans fed beneath.
With bakery equipment suppliers lining up with inventive and stress-free dough solutions for buns, all that is left to do is choose the appropriate piece of kit.
Case study: Roses the Bakers
Roses the Bakers has been supplying the Sheffield community since 1940. The family-owned business, now in its third generation, has five shops citywide.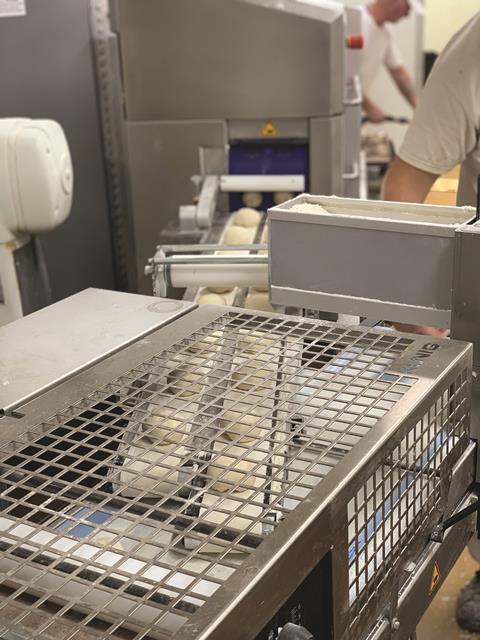 Its Steel City bakery also supplies more than 60 wholesale businesses, including educational institutions, convenience shops and cafés.
The craft baker produces thousands of breadcakes (as bread rolls are known in Yorkshire dialect) every day, and a product range including doughnuts, cupcakes, pastries, tarts, sandwiches and speciality loaves.
When its ageing dough divider became unreliable, Roses bought a Koenig Mini Rex Futura dough dividing and rounding machine from EPP, which it says has delivered greater consistency and accuracy, improved yield and reduced labour costs.
"The divider we had kept breaking down; it was disrupting production, and there was a lot of waste, as well as inconsistencies which impacted the quality of the product," said Seuranie Johnstone, director, whose grandfather James Rose founded the company.
To ensure the divider was right for their needs, EPP encouraged Roses to try out the product on the Koenig Mini Rex machine it has available for trials at the Puratos Innovation Centre test bakery near Bicester, Oxfordshire.
During trials Roses was able to use its own recipes and discovered it could increase the water percentage in the dough, increasing yield and delivering a soft texture.
The new divider is used at Roses' Atlas Way bakery for a couple of hours per day to create between 4,000 and 6,000 breadcakes. The machine can also produce a wide range of products from different dough piece sizes.
There was a lot of hand moulding required with the previous setup, and a lot of splitting of dough pieces. With the Mini Rex, one person can handle the settings and do the traying up.
"We've been able to reduce the number of people working on the divider from three or four to just one, and it's much easier to clean. The old machine used to take two people an hour to fully clean. The Mini Rex takes one person 20 minutes," said Johnstone.
Case Study: Roberts Bakery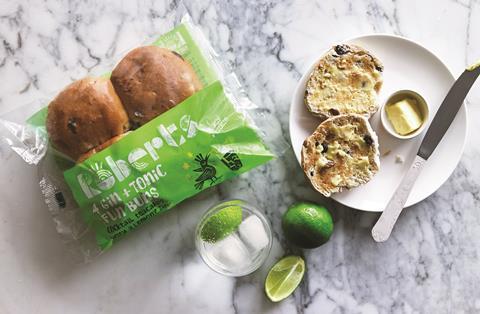 Cheshire-based plant baker Roberts Bakery has two main lines for rolls and buns, one at each of its two bakeries.
At its Northwich site it has a Koenig which has recently been refurbished to extend the weight range it can produce.
"This line is still relatively small compared with some of our competitors but allows us to develop our next generation concepts such as the Gin & Tonic Fun Buns we launched as part of our rebrand in 2017, followed by our Espresso Martini Fun Bun in 2019," says Alison Ordonez, head of innovation.
The line is automated and runs on flat trays to allow good use of the tray, producing batched or single rolls.
"We have a Tromp system with several topping hoppers to allow for quick decoration changes, and we can also hand cut to increase the value perception and give differentiation when required," Ordonez explains.
Roberts' Gouet radiant oven is ideal for this type of product and produces a very standardised bake colour through the run. Last year it added a mobile fermenter to the line to produce a ferment from waste bread, which was added back into the Roberts Ultimate Hot Cross bun at the mixer to give a flavour and structure boost.
At its Ilkeston bakery, Roberts has a Mecatherm line which services more of a business to business customer base.
"We've adapted our processes so this line can produce sub rolls as well as speciality breads. There is flexibility in the design to change the number of cuts out of the divider head and create a huge variety of sizes," she explains.
The 200mm/8in remains the most popular but the profile has become narrower, with NPD focused on longer, slimmer eats.
The main challenges are remaining cost competitive, especially on traditional batched rolls, so it focused on optimising size and tray fill in the development process. This is balanced by being able to offer smaller production runs for niche product types, such as fermentation and hand finishing.
"Hot cross buns have seen an explosion over recent years with many more new flavours, often dessert influenced, and this is an area we are looking at for the future," says Ordonez.
Government guidelines around sugar and health are being taken into consideration, so Roberts tries to use other ingredients such as malt flours for flavour boost and sweetness where possible.