The line "fools rush in where angels fear to tread" could have been written as a piece of advice for bakers considering ramping up their production. Not to say that it's a bad idea to expand – demand for goods from local bakeries surged amid the pandemic and many businesses were thrown in the deep end. Now, it's vital to take a step back and assess their needs.
Cost reduction, economies of scale, flexibility, increased yield and more consistent product quality are some of the benefits that investing in production equipment can bring. New automated equipment may also even reduce the quantity of yeast and improvers required. But the challenge is that there's a lot more to profitable growth than just bunging in a few new bits of kit.
As small craft and retail bakeries take the next step, how do you make sure you spend your money wisely?
Someone who has been there is Lisa Smith, who founded Ginger Bakers from her kitchen in 2006. She now has a purpose-built bakery in Kendal and a thriving wholesale business. Smith says there are two crucial things to consider before you even set a budget for new equipment.
Firstly, do you have enough space, particularly for storage? Products move through the production area quickly so you may have enough space there, but more storage at either end of production will increase capacity.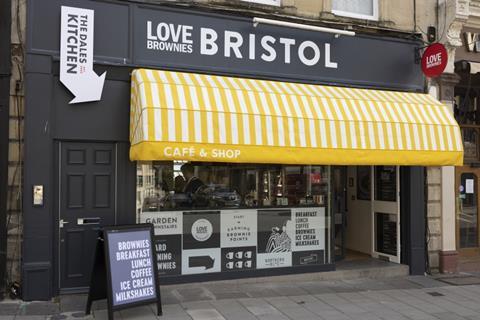 Secondly, do you really have the cash flow to scale up? Bulk purchasing offers greater savings and can improve efficiency. But if you don't have access to enough finance, then expansion can be costly to the business and inefficient.
Bakers could also consider consolidating their range to focus on the most popular products or those with the best margin; this will help identify where a new solution may be required, Martin Smith, Fritsch product manager at Multivac UK recommends.
Another question is staffing – as you expand, everything needs to be on a grander scale. Take the example of Love Brownies, a rapidly expanding franchise chain selling premium brownies, based in Ilkley, Yorkshire. It has 13 shops and plans to open another four this summer, says Tina Jessop, head of marketing.
While its central bakery, the Brownie Barn, has plenty of capacity, scheduling staff to work the required manhours is a challenge as the business grows. Even from the marketing point of view, the company is at a tipping point where additional personnel will be required.
New equipment or upgrades also need regular maintenance and cleaning regimes to help with longevity, energy efficiency and production, she warns.
Make a shopping list
So how should you go about shortlisting equipment and identifying what you really need? Brook Food offers some top tips for equipment that should be on a bakery's radar as it expands. First, dough dividers and sheeters make very manual, hands-on processes quicker, easier and more consistent. A retarder proofer is another great labour saver as you can put your dough in overnight and have it proofed and ready to bake at your convenience.
Artisan bakeries also find that using setters and loaders can dramatically increase productivity and save time between bakes, with the added advantage of reducing manual handling of dough, advises Ann Wells, commercial director of Brook Food.
Another voice of experience is Karl Spinks, assistant general manager at the expansive bakery chain Wenzel's, which is set to open its 80th store in June, and 100th in December.
The Watford-headquartered family business conducts a feasibility study when considering specific pieces of kit. A checklist of questions to ask includes: can the new machine's volume output keep up with production demand? Can return on investment be achieved within 18 to 24 months? Is the machinery suitable for a multitude of uses? Can it streamline a current production process? Crucially, does it fit in with current floor plan and layout in an efficient manner? Finally, is it easy to operate and clean?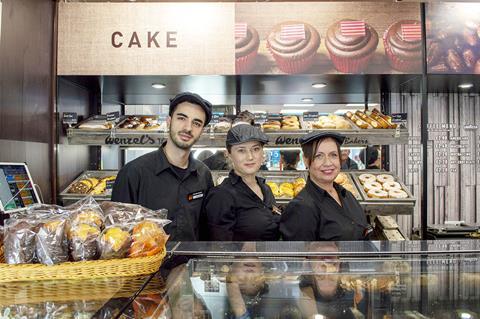 Spinks says roll plant has been a good buy as it is very adaptable in making different products in both cake and bread ranges, also providing consistency on shaping high volume lines such as crusty rolls and doughnut lines.
Wenzel's also recently invested in an indoor twin silo system, which boosted efficiency through less manual handling, improved weighing out procedures and saving space within the production area. Storage space was also increased due to the introduction of the unit.
Efficiency can be improved by working practices, equipment and machinery layout as well as staff training. Where automation really helps is wrapping, sealing and cutting finished products
Getting further into the specifics of choosing equipment, Julie Croker, MD at Angel Refrigeration, says that it is vital to absorb the finer details of a new bit of kit. This might be which side the door is hinged, the ventilation, the proximity to ovens, other workstations, plug sockets and a fresh water supply. Can the equipment be easily accessed for cleaning and maintenance, for example?
Bakers should also bear in mind that throwing new automated kit at a problem might not always solve it, as Spinks comments: "Automation provides a route to scale our production but we prefer to focus on efficiency over fully automated lines," he says. "Efficiency can be improved by working practices, equipment and machinery layout as well as staff training. Where automation really helps is wrapping, sealing and cutting finished products."
This point is taken up by Lisa Smith at Ginger Bakers: "Efficiency isn't always about automation. The first thing we do is look at our processes. Becoming more efficient might mean altering the order in which we bake things or altering the batch quantities a little."
Equipment should also be compatible with what is already in place, she says. "We make sure that the capacity of each major piece of equipment is comparable, to ensure no capacity is wasted. For example, one full batch fills the mixer, which in turn fills the oven, which fills one stack of racks."
It might all seem rather daunting, but better to be daunted before than after the investment has been made.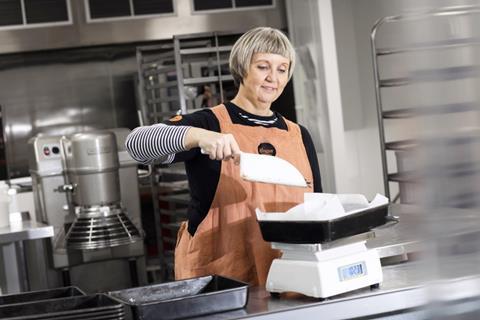 Real life experience
Bakers are also well advised to see the equipment in action before finalising any purchase. The best way to know how something works in the real world is to ask someone who has it.
"The dealer or manufacturer should be able to tell you who they have previously sold to. Get in touch and ask a few questions," says Smith.
Spinks at Wenzel's recommends brainstorming plans with everyone involved: "Our team of bakers are heavily involved in the expansion of the bakery. Regular consultations take place with all team members. We also work with major manufacturers of bakery specialist equipment who regularly keep us up to date with any new innovations in the bakery industry."
Suppliers are keen to help with plans for installations, as Richard Norman, national account manager – specification & projects at Jestic Foodservice Solutions, emphasises. "For any small craft or retail bakery looking to expand, investing in equipment which can increase capacity and improve efficiency is critical," he says.
"Equally important is choosing a supplier with the experience to help them make the right decision, provide the training to get the most out of the equipment and who can offer aftersales support to minimise any downtime."
For any small craft or retail bakery looking to expand, investing in equipment which can increase capacity and improve efficiency is critical
Supplier support is vital, even in matters such as scheduling the installation. Fitting new equipment in an active working environment can pose challenges, involve cordoning off areas and enforcing hygiene practices.
"When it comes to installation, it is best to avoid busy times so that trade isn't affected. Most reputable suppliers will deliver and install at a time that is most suitable for their customers," explains Julie Croker at Angel Refrigeration.
With all the pros and cons weighed up, and the quotes in, there remains one final quote – this one from Walt Disney: "First, think. Second, believe. Third, dream. And finally, dare."