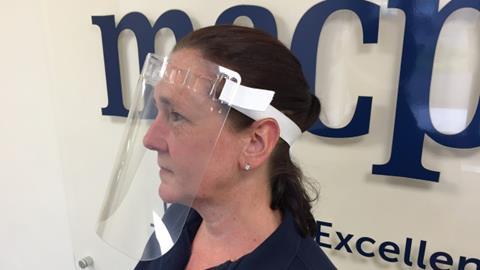 Packaging specialist Macpac has developed a face visor made from 100% recyclable material.
The business, which specialises in designing and manufacturing thermoformed packaging, has produced the PPE face visor for critical care workers on a non-profit basis. This is the first time the Stockport-based firm has been involved in this kind of project.
The visor has been designed to sit away from the face at an angle to allow the use of glasses or protective goggles and face masks. Macpac said the hygienic design meant the visor could be washed or wiped down easily for reuse if required.
Two styles of visor have been developed: one for critical care workers or manufacturers; and the other to be worn with hard hats for the building trade.
The visor has been authorised by the Medicines & Healthcare Products Regulatory Agency (MHRA) on device compliance, and has undergone testing and validation over the past few weeks to achieve the CE mark to Regulation & Technical Specification: PPE for Healthcare Professionals 2020/403 for Eye Protection.
"Manufactured using high-clarity recycled PET material that is 100% recyclable offers a cost-effective, quick-to-market option, helping fight Covid-19 and helping save lives," said Macpac managing director Graham Kershaw.
"We are all trying to do our bit, and we are doing this as a strictly non-profit exercise"