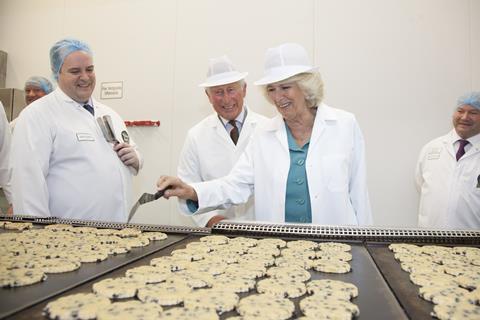 The Prince of Wales and The Duchess of Cornwall showcased the baking industry in a virtual food tour of the UK regions posted on their social media channels last week.
The posts, which have had thousands of 'likes', look back on some of the couple's "most appetising visits via a virtual taste tour of the United Kingdom".
The virtual tour starts in Scotland with a 2017 royal visit to the Blair Atholl Watermill, a working water mill dating back to 1590s, where stoneground oatmeal and flours are milled and sold.
Representing England was Ginsters of Cornwall, which shared its recipe for its Cornish pasty with Her Royal Highness last year, during a reception to celebrate Ginsters's 50th anniversary.
The Prince of Wales 2004 visit to family-run Ditty's Home Bakery in Castledawson, Northern Ireland was showcased as the virtual tour hit Northern Ireland last Thursday, with Clarence House sharing a recipe for Ditty's traditional soda farls.
The finale of the virtual tour, posted on September 4, was the royal couple's 2015 visit to The Village Bakery in Wrexham, Wales (pictured). Their Royal Highnesses officially opened the company's new bakery and Baking Academy and tried their hands at flipping Welsh cakes to ensure they browned on both sides.
According to Village Bakery managing director Robin Jones, Village Bakery was thrilled and proud to be invited to join the virtual tour.
During the visit they saw the Welsh Cakes production line in action and even had a go at flipping them.
The Welsh Cakes are sold across the UK, and as far afield as Hong Kong, Singapore and the Far East.
"I am particularly proud that the Village Bakery has been chosen to represent Wales as part of this virtual tour. It's also fantastic recognition for our wonderful workforce who are the secret ingredient in the Village Bakery's success," said Jones.