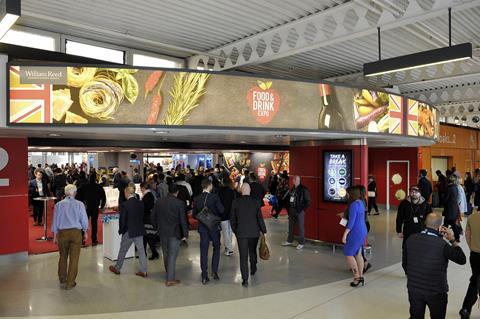 The UK Food & Drink Shows are back, and they're expected to be record-breaking as big brands, industry heavyweights and food & drink professionals flock to the NEC in Birmingham.
Comprising the National Convenience Show, Farm Shop & Deli Show, Food & Drink Expo and The Forecourt Show, the event takes place from 25 to 27 April. Each area is tailored to its sector's unique challenges while offering visitors a wider snapshot of the industry's overarching issues.
The shows are free to attend – all you need to do is register via this link.
Below, we've compiled a list of reasons while the UK Food & Drink Shows are not to be missed: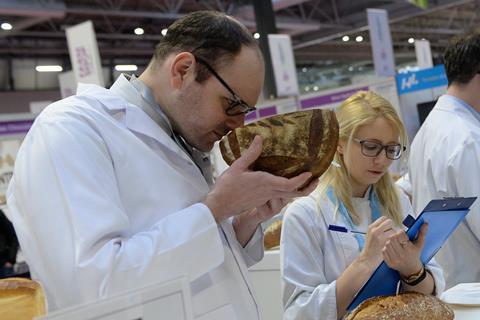 Watch Britain's Best Loaf judging in action
The Farm Shop & Deli Show is also home to Britain's Best Loaf where bread from across the nation will battle it out for the ultimate title.
Hosted by British Baker and sponsored by ADM, Bako, Lesaffre, Brook Food, Delice de France and Food Paper, the competition takes place on Monday 25 April. Every loaf entered across the six categories – Gluten free, Innovation, Plain Sourdough, Sourdough with Other Ingredients, White and Wholegrain – will be expertly assessed by an esteemed panel of judges including four-time champion and Poppyseed Bakery owner Lee Smith, Craft Bakers Association president Neil Woods and Bakehouse at 124 owner and head baker Clare Barton.
The loaves are judged in front of a live audience making it a feast for the eyes but also an opportunity for networking with the hordes of craft bakers watching diligently from the side lines.
Once the judging has taken place, the category winners and Britain's Best Loaf 2022 will be revealed.
For more information and to enter visit our dedicated website britainsbestloaf.co.uk.
Find out which farm shop products wow the judges
If cakes, biscuits, and pies are more your thing, then be sure to stick around for the inaugural Farm Shop & Deli Product Awards. Taking place across all three days, the aim of the awards is to showcase quality products sold in farm shops, delis, and specialist food retailers.
There are six categories, each of which is broken down into small subcategories. The meat category, for example, includes a pasty and dough section where pasties, pies, sausage rolls and wellingtons can shine. Sweet bakery & confectionery, meanwhile, includes biscuits, cakes and desserts while crackers, meat-free pies and pastries can be entered into the savoury biscuits & snacks category.
"These awards will celebrate the incredible range of products on offer in the farm shop community," says Andrew Reed, managing director – wine and exhibitions at William Reed. "Covid-19 amplified the demand for locally sourced, high-quality products and in creating these awards, we hope to shine a spotlight on the fantastic producers we have in the UK and their unwavering dedication to excellence."
Entries cost £100 per product but exhibitors at the shows get 50% off. The winners in the savoury biscuits and bakery & confectionery categories will be announced on Monday 25 April and the meat ones on Tuesday 26 April.
To find out more, and to enter the awards, farmshopanddelishow.co.uk/awards.
Learn from the experts
Visitors will benefit from exclusive insight offered by expert panellists who are set to dissect and discuss the most pressing questions facing the industry across a three-day seminar programme.
Sustainability is high up the agenda, with topics including whether reusable packaging is the future of grocery, how to give surplus purpose and understanding conscious consumers. Guest speakers will also be diving into what matters most to the food & drink industry right now, how to predict trends and understand what consumers really want as well as what the incoming HFSS (high fat, salt and sugar) regulations mean for local shops.
Other on-stage highlights will include Dragons' Pantry – a product showcase where daring entrepreneurs pitch to a group of 'dragons', offering the tantalising prize of a potential listing.
For the full list of sessions, visit the Farm Shop & Deli website.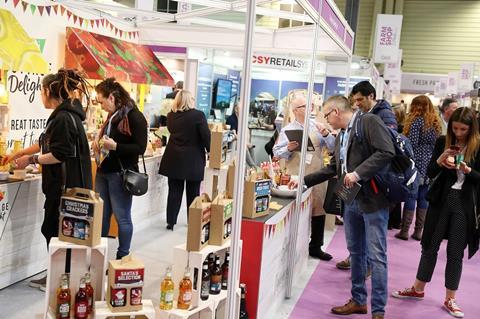 Meet the exhibitors
There's a host of bakery firms set to showcase their wares and expertise at the shows.
From ingredient and equipment suppliers to finished goods purveyors and everything in between, visiting their stands offers you a chance to make business connections, source items for your business and even find inspiration and generate new ideas.
Some of the bakery firms exhibiting include:
Brook Food & Bakery Equipment
Bridor
Delice de France
Dr Oetker Professional
Fleming Howden
Invicta Bakeware
Island Bakery
Just Desserts
Ridiculously Rich by Alana
Shipton Mill
Stockan's Oatcakes
St Pierre Groupe
The Original Baker
Network with key players in the industry
Business is all about connections, which is why the value of meeting existing contacts and making new ones in person is not to be underestimated.
The UK Food & Drink Shows will offer ample opportunity to do just this with big names such as Morrisons, Booker, Nisa and Mondelēz expected to be in attendance alongside specialist suppliers.
"Virtual meetings may have been a blessing during the last two years, but nothing compares to the impact of conducting business in person," adds Andrew Reed. "There's no better opportunity to make the most of face-to-face meetings and forge new and revive existing relationships."