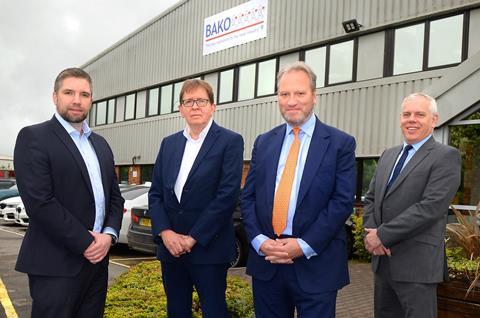 Bakery wholesaler Bako has consolidated its three regional trading divisions into one.
Formerly known respectively as Bako North Western, Bako Northern & Scotland, and Bako South Eastern, the group's trading subsidiaries in Preston, Durham and Wimbledon will now operate as a single national entity known as Bako Ltd.
Mike Tully will remain as group CEO, Ian York as managing director of Bako Preston, Paul Long as managing director of Bako Durham, and Ed Branch as general manager of Bako Wimbledon.
The wholesaler, which distributes bakery products to customers across the UK with a multi-temperature fleet of more than 70 vehicles, has undergone the process of consolidation to 'better reflect the company's national footprint'.
"The unification of our three regional trading subsidiaries under a single national brand marks a new era for Bako, increasing our ability to serve the entire country with completely joined-up processes that will provide an even better service for our customers, said Tully.
"The coming together of Bako across the country will also help further increase the buying power of our national group and the collective benefits of Bako membership for independent bakers and purveyors of quality baked goods throughout the UK."
As well as providing independent bakers and caterers with a range of ingredients and finished products from different suppliers, the company also offers products from its Bako Select branded range.
"Current members can rest assured that they will continue to see the same names and faces they are used to working with in their individual regions, but that they will also see the systems improve and enjoy the further benefits of this coming together of the group," Tully added.
Earlier this month, former Bako South Eastern managing director Nick Harris was appointed as the new chairman for the Craft Bakers Association. Harris retired from the company in December 2021, having joined as Bako South Eastern MD in January 2018.