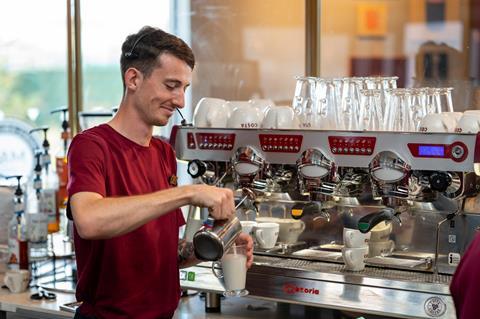 Costa Coffee is investing £12m towards pay increases and improved benefits for employees at its 1,520 company-owned stores.
Hourly wages are set to increase by between 6.1% and 7.3%, excluding bonuses, with effect from 1 April 2023. This means base pay rates for Costa's baristas will increase from £10 per hour to at least £10.70 per hour, whilst more experienced barista maestros will see an uplift from £10.53 to at least £11.23 per hour, depending on location and role.
This is the third time Costa Coffee has increased its pay rates in the last 12 months. In this time, the company's base rate of pay has risen from £9.36 to £10.70 per hour – an increase of over 14%.
Costa noted that it doesn't differentiate based on age meaning all store team members would receive at least £10.70 per hour. Upon completion of a comprehensive introductory training programme, baristas can receive an uplift of 20p per hour, with barista maestros seeing a boost of 50p per hour. Costa said this means three-quarters of its team members will be on at least £10.90 per hour from April.
The announcement comes shortly after Pret revealed it was also giving employees their third pay rise in the space of a year, with the average base pay for shop staff up 19% during the period.
"Our expert baristas are at the heart of our business and the communities we serve, and we are proud to be rewarding their amazing work. This increase reflects everything they continue to do for our customers to make their day that little bit better," said Nick Orrin, interim UK&I managing director.
Costa has also enhanced its wider offer to employees as part of the annual investment. Bonuses linked to the performance of a store is now a direct payment rather than vouchers. Free drinks are always available while on shift but, in addition, the company has this year increased its staff discount from 25% to 50% across its whole menu.
Staf continue to be able to access discounts on household purchases, bills, and entertainment, Costa added, as well as up to 10% matching on pension contributions, income protection, life assurance, and a cycle-to-work scheme.
"We continue to live in uncertain times, but we are passionate about putting our teams and communities first," Orrin added. "By always investing in our stores and our teams, we can give everyone a little boost each time they step inside their local Costa Coffee."