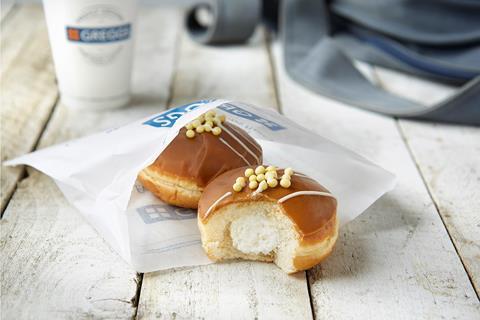 Job losses are on the cards at Greggs as sales remain below pre-coronavirus levels and will do for the foreseeable future.
In a trading update today (29 September), the business said it is proposing a series of changes, which are subject to consultation with union and employee representatives. However, Greggs added that it aims to 'minimise the risk of job losses by negotiating reduced hours' in shops, with an update on the consultation expected in November.
"With the Job Retention Scheme planned to end in October we are taking steps to ensure that our employment costs reflect the estimated level of demand from November onwards," it said.
"With business activity levels remaining below normal for the foreseeable future we must change the way we work to be as productive and flexible as we can in order to protect as many jobs as possible for the long term."
Since reopening its full estate on 2 July, like-for-like sales in company-managed shops have averaged 71.2% of the 2019 level in the 12 weeks to 26 September.
Sales continued to improve in the most recent four weeks to 26 September, with like-for-like sales averaging 76.1% of the 2019 level, in line with its planning assumptions.
In the 39 weeks to 26 September, it opened 38 new shops and closed 49 shops, resulting in a total of 2,039 shops (1,720 of which are company owned). It has also reactivated elements of its shop opening pipeline and now expects to open a net 20 shops in 2020, predominately in locations accessed by car.
Greggs said these numbers had been achieved despite a number of headwinds, which included it not being able to participate in the government's Eat Out To Help Out scheme as its seated offer was closed. However, a recovery in customer visits this month led to 100 of its larger shops reopening its seating areas, with appropriate social distancing in place.
As demand increases, Greggs has reintroduced products into its range and has now reopened all manufacturing operations. A wider range of sandwiches and Belgian buns are among the products returning.
It noted a small impact on the supply chain as a result of Covid-19 cases at its distribution centre in Leeds in August, which saw that site temporarily closed. It has also stopped production at its factory in Newcastle after a small number of staff tested positive for the virus.
Elsewhere, it said its digital offer is developing quickly and benefiting from increased investment during lockdown.
"Our Click & Collect offer is now available in all shops, allowing customers to pre-order and pay ahead of visiting to collect their order. The rollout of our national delivery offer, in partnership with Just Eat, is progressing at speed and we are seeing encouraging participation levels. In the most recent week to 26 September delivery represented 2.6% of company-managed shop sales."
Looking forward, it said the outlook for trading remains uncertain due to rising Covid-19 infection rates which increases the risk of supply chain interruption and further restrictions on customers.
"In these challenging conditions our teams continue to work hard and have proven our ability to operate with social distancing and adapt to new digital channels."