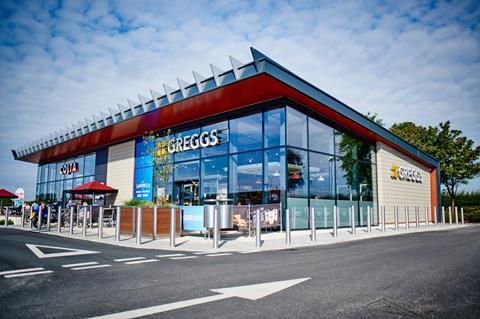 Greggs' sales have fallen by £357m over the past year as it warns that profits won't return to pre-Covid levels until at least 2022.
In a trading update today (6 January), the business revealed its sales for 2020 financial year totalled £811m [53 w/e 2 January 2021] compared to £1,168m in 2019 as a result of the Covid-19 pandemic and consequent lockdowns.
Improvements were seen in the fourth quarter with like-for-like sales through company-managed shops averaging 81.1% of the 2019 level. However, this still resulted in a £51m drop from the year prior. Overall, Greggs said it expects a financial loss of £15m before tax for 2020.
"The significant uncertainty over the duration of social restrictions, along with the impact of higher unemployment levels, makes it difficult to predict performance. However, we do not expect that profits will return to pre-Covid levels until 2022 at the earliest," it said in the update.
However, the business has forged ahead with plans for national delivery and shop openings.
In the fourth quarter, delivery represented 5.5% of company-managed shop sales. As of today, 600 of the firm's shops now provide delivery services to catchments served by Just Eat. This is expected to increase to around 800 shops in 2021.
In 2020, Greggs grew its estate to 2,078 shops with plans to open 100 net new stores in the year ahead. It opened 84 new shops, including 35 franchised units, with those sites accessed by car performing particularly well, it said. It also closed 56 shops.
"In light of the recent government announcements significant uncertainties remain in the near-term. We have taken action to position Greggs to withstand further short-term shocks and are optimistic about our prospects for growth once social restrictions are lifted," chief executive Roger Whiteside added.
Hundreds of jobs were lost after a consultation with union and employee representatives in September. The action proposed a series of changes, with several employees accepting counter proposals to reduce their contract hours.
"In order to reflect below-normal activity levels we completed an employee consultation programme in the quarter. The consultation process minimised the number of job losses but, unfortunately, still resulted in 820 redundancies."
"Throughout the crisis government support has been essential in order to minimise the number of job losses caused by lower levels of demand and to contain losses in the business, which we now believe are likely to be up to £15m before taxation for the year as a whole."
Greggs has ended the financial year with a net cash position of £37m. Looking forward, it aims to develop new ways for customers to shop through digital channels and estate growth.