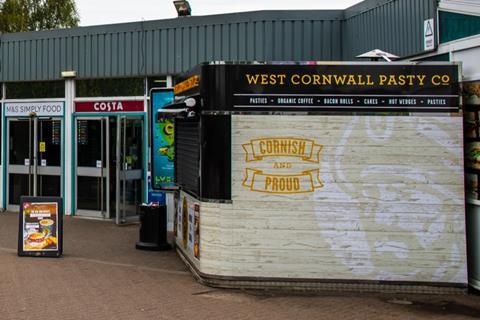 Accounts filed with Companies House show a heavy impact from the pandemic on West Cornwall Pasty Co, with a £7.1m loss for the year up to 31 December 2020.
The latest figure follows a £1.7m loss in the previous year's accounts. According to the company, which is part of Samworth Brothers' group of food businesses, restructuring measures had produced a positive impact on trading performance in the first two months of 2020 before lockdown resulted in 'significant losses'.
At the beginning of the year, the company's principal activity was a speciality branded food-to-go retail business, providing hand-crimped Cornish pasties and other products through units in travel hubs and on high streets. However, in September 2020, as a consequence of the pandemic, it was announced that all high street and travel outlets would permanently close.
Since then, the company has continued to supply customers through franchise agreements, primarily in petrol forecourts and motorway services.
Sales for 2020 reduced to £6.1m, from £18.7m in 2019. The pre-tax loss for the year of £7.1m includes non-underlying costs associated with the closure of all the high street stores and travel outlets; excluding these costs, the loss represents £2.9m, the company said.
According to the directors' report, it is believed the pandemic will continue to negatively impact the wider group's financial performance in 2021, particularly for the food-to-go category in the first half of the year. However, having 'reverse stress tested' the business and considered the impact of a range of 'severe but plausible' downside scenarios for the next 18 months, plans have been drawn up to potentially mitigate any impact on profits and cash flows.
The directors conclude that the group has adequate resources to continue to operate within its current banking facilities.