Home baking was a saviour for many during the first lockdown, with the British public turning their hand to sourdough, banana bread and brownies to stave off boredom.
In fact, a survey by the National Association of British and Irish Millers (Nabim) found that more than half (54%) of the 4,000 UK adults polled had whipped up a treat.
While this activity may seem counterintuitive for bakery businesses, many sought to tap into the demand through the creation of DIY kits that could be delivered straight to consumers' homes.
Roberts Bakery, for example, unveiled its first-ever home baking kit as part of a new online shop, allowing customers to whip up 1kg of premium dough for use as a white loaf, bread rolls or even a pizza base. Sussex-based Truffles Bakery, meanwhile, rolled out doughnut decorating kits.
Here are three more examples of how bakery businesses ventured into the home baking market…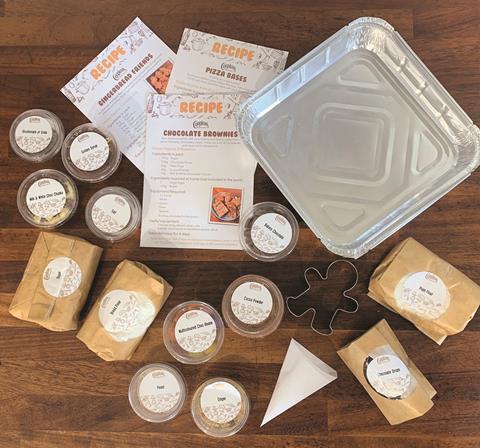 Cooplands
It might seem odd for a bakery to give its customers the tools to recreate popular bakes at home, but that's exactly what Cooplands did.
The Cooplands Baking Box, which costs £15, gave customers everything they needed to make eight chocolate brownies, 12 gingerbread men and two medium pizza bases. It featured recipe cards, ingredients, and even tools in the form of a piping bag, foil tray and gingerbread cutter.
It came about as a result of the boom in home baking during lockdown, explains John Ruddock, manufacturing and procurement director at Cooplands. This was something it decided to tap into, despite two-thirds of its branches remaining open.
"We realised there was an increasing trend for in home experiences across different types of products, not just food," he says. "We knew we had well-loved products, with recipes that could be simplified and be really fun for families to make together."
Made from dry ingredients that Cooplands uses to make its products, the baking boxes are hand-packed at its Scarborough bakery.
The boxes were promoted in store with eye-catching point of sale, on their website and across their social media channels. Consumers will also be able to buy online and collect at their local shop.
"The boxes so far have been a great success and we are producing more than we originally anticipated," adds Ruddock.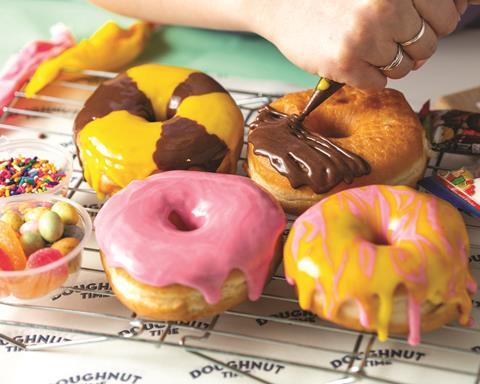 Doughnut Time
With a cult-like following, London-based Doughnut Time is renowned for its indulgent doughnuts complete with pun-tastic names such as Gordon Jamsey, Bueno Mars and David Hassel-Biscoff.
But when lockdown hit, it had to think fast in order to survive. Foot traffic to its bricks and mortar stores, most of which are in the City, dwindled as commuters adapted to life working from home. Ultimately, the decision was made to temporarily close the stores, meaning Doughnut Time had to come up with a solution to keep its fans interested.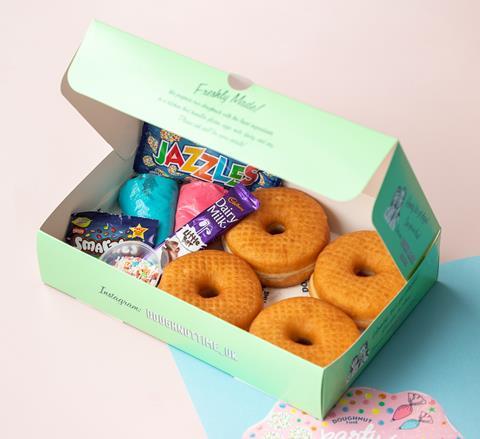 "We had to create a new offering which would deliver the Doughnut Time experience directly to customers' doors. We created DIY Home Kits, giving fans the tools and tricks to create Doughnut Time from home," says Isabella Aldridge, head of marketing UK.
The kits comprise four handmade doughnuts and a choice of vibrant glazes, toppings, buttercreams and sauces. Variants include Caramel Choc, Cookies n' Cream, Party Sprinkle and a limited-edition Collab Kit, priced at £17.95. It also offered the Cookie Dough Sando Kit, priced at £22, which allows customers to make mini doughnut sandwiches stuffed with Nutella, Caramac, Kinder Bueno and mini cookies as well as Doughnut Time's secret-recipe cookie dough.
Marketed through Instagram, its London audience was a huge help in spreading awareness online, Doughnut Time said. What's more, the kits tapped into the demand for the company's Doughnut Academy Masterclasses, in which guests can create their own topped doughnuts.
The DIY kits were not without challenges. The company had to ensure products were delivered to the customer within 1-2 days with the same high quality in which they left the kitchen. With shipping and packaging at the forefront of decision making, the team invested many hours researching their new business model.
"Fast forward to now and, thankfully, our stores are back up and running," adds Aldridge.
"Despite seeing our customer's shopping habits slowly return to normal; we've decided to continue selling the DIY kits online. We're currently focused on evolving the products and building a more premium packaging system."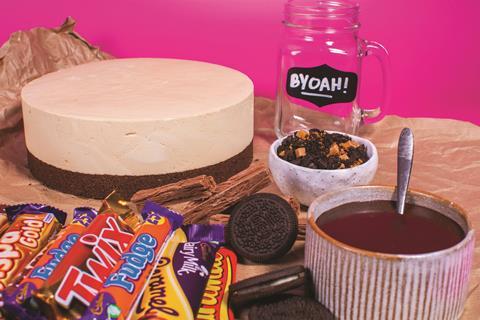 Pleesecakes
Cheesecake specialist Pleesecakes was presented with an immediate challenge when it looked to branch into at-home kits for its products – temperature control. After all, nobody wanted to splash out on an indulgent cheesecake only for it to arrive a melted mess.
Pleesecakes had to carry out various packaging tests and find a company that could pack its Build Your Own at Home (BYOAH) delivery kits correctly.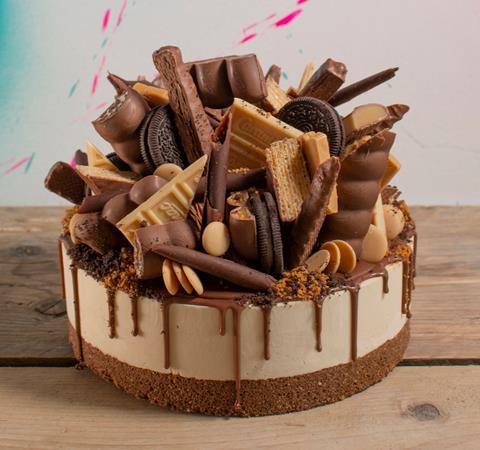 Thankfully, it found a partner that packed the products in a box with dry ice, which allowed the kit to be kept frozen in transit for up to two days.
The BYOAH kits feature a ready-made base and filling to create a seven-inch cheesecake. They also come complete with a ganache pouch and choice of topping packs allowing consumers to choose between the Pick 'n' Mix variant with drumsticks and flying saucers, or Fully Loaded with chocolate bars, caramel and Oreos. Serving eight to ten people, the kits cost £30 and include instructions.
"It was a very uncertain time at the start and a large portion of our revenue was through events and festivals, so we took a big hit in those sectors. We were in a situation where we weren't able to do anything outdoors or physically engage with consumers, so we had to work out a way to get our product to consumers," says Joe Moruzzi, founder of Pleesecakes (pictured above).
With an online following of more than 400,000 followers across various platforms, social media was the "most honest and organic way" to market the product.
Pleesecakes did not use any paid advertisements, instead working closely with its PR team to help expose the product, especially to influencers.
"We filmed two YouTube video tutorials, one for each of the toppings. We can take you through step-by-step how to decorate and construct the cake from home. It's engaging and easy to follow," Moruzzi adds.