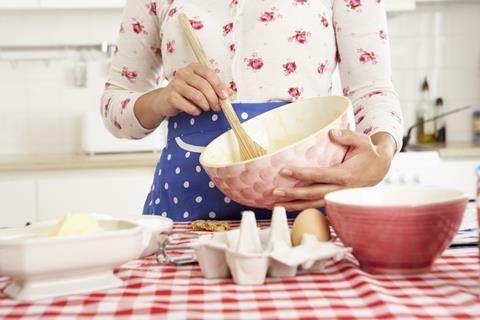 More than half of Brits tried their hand at home baking during the first two months of lockdown, a survey by the National Association of British and Irish Millers (Nabim) has revealed.
The survey, which saw more than 4,000 adults polled on their baking habits from the start of lockdown to mid-May, also found that a third (34%) had used two or more bags of flour in that time.
Of the 54% of respondents who had whipped up a treat, bread was the most popular bake, followed by cookies, cupcakes and banana bread.
Here's what the Nabim research showed the nation had been baking:
37% have baked bread
34% have baked cookies
32% have baked cupcakes
28% have baked banana bread
27% have baked chocolate cake
26% have made pizza
23% have baked brownies
7% have baked sourdough
A quarter (26%) of respondents said baking was relaxing and therapeutic, while 40% of 18- to 24-year-olds added that baking helped with their stress levels during the uncertainty of lockdown.
Looking at respondents' future baking intentions, a third (33%) said they intended to bake sourdough, while 59% had their baking sights set on bread in general.
Earlier this year Nabim launched The Easy Peasy Baking Campaign, designed to simplify baking and cut through common misconceptions that stop some people trying the activity.