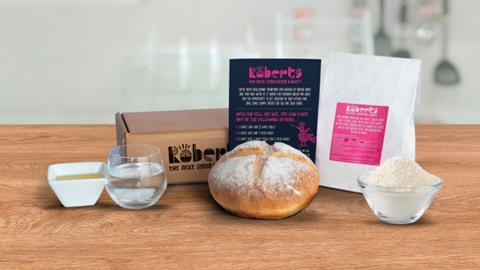 Roberts Bakery has unveiled its first-ever home baking kit as part of a new online shop.
Called the Get Baking Kit, it contains a 1kg premium dough mix that can be used to make a large white loaf, as well as white bread rolls and pizza bases. Priced at £8.50, customers just need to add water and olive oil to make the products by mixing and kneading them before baking.
The shop also has three different Roberts Bakery bundles available, which feature a selection of its existing products, priced at £7.50 per bundle. They are:
Family Faves Bundle – described as a selection of its best-selling loaves and rolls, the bundle includes Thick Soft White; Vit Hit 750; Heroic Wholemeal Bloomer; eight white rolls and six brown Sandwich Lites.
Bakery Explorer Bundle (pictured below) – this box features Roberts "most adventurous bakes", including Vit Hit; Energy Balance Good for You Bloomer; four Apple & BBQ Fun Buns; four Coconut & Rum Fun Buns and six Brown Sandwich Lites.
Healthy Hits Bundle – is designed for health-conscious consumers and features Vit Hit; Energy Balance Good for You Bloomer; True Vitality Good for You Bloomer; four Wholemeal Rolls and six Brown Sandwich Lites.
Roberts claimed it was the first major bakery brand in the UK to sell directly to shoppers and has partnered with national delivery service DPD to offer next-day delivery.
Additionally, from 15 May, the baking kits and bundles will be available for delivery via UberEats in Manchester and Leeds before a wider roll-out.
"Plans to a introduce a direct-to-consumer channel have been in development for a while, but we've fast-tracked them in response to current consumer requirements – be that on shelf shortages or self-isolation needs," said Stuart Spencer-Calnan, managing director of Roberts Bakery.
"We've reacted to the shortage of flour and yeast in shops, and we're hoping that our new Get Baking Kit will mean more people get to enjoy the experience.
"And for those who don't fancy giving home bread baking a go – but are vulnerable, self-isolating or simply want to avoid shops and are still hustling for supermarket delivery slots – our Bakery Bundles will hopefully provide another solution to a pandemic problem."