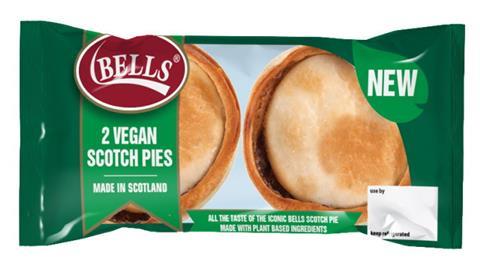 Bells has launched a vegan Scotch pie to tap growing interest in plant-based food in Scotland.
Available in a pack of two, and mirroring Bells' original Scotch pie, it had been developed in response to consumer demand for a vegan variant.
"Bells is part of everyday life in Scotland and has been for many decades. It has taken time to develop as we wanted to produce a vegan pie that customers will love just as much as the original," said Bells managing director Ronnie Miles.
A staple in Scottish households, half a million of its Scotch pies are sold every week, said the company.
"Like many retailers, Tesco has seen a growing demand for vegan and vegetarian products across Scotland," said James Lamont, buying manager at Tesco Scotland.
"Bells is a market-leading pie range and, having tasted the new Bells vegan Scotch pie, I am confident that it will be a winner with many of our customers."
The pie rolls out this week in major Tesco and Sainsbury's stores across Scotland with an rsp of £1.50.