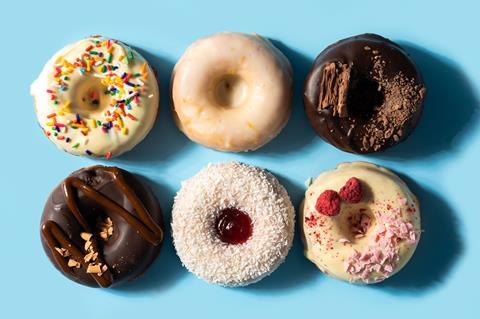 Doughnut Time is set to roll out a 10-strong selection of gluten-free baked doughnuts playfully named after famous faces.
The doughnuts, which include white chocolate & raspberry and chocolate, caramel & fudge ones (see full list below), are made from Doves Farm rice, potato and gluten-free flours.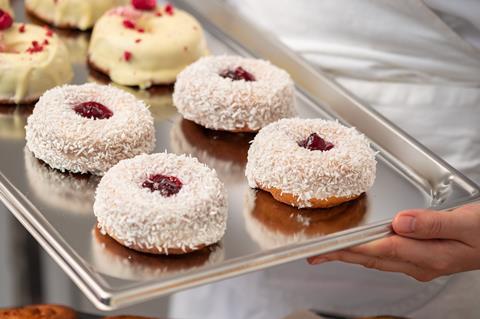 They're made in Doughnut Time's 'Baked' kitchen which is separate to its main bakery and was opened earlier this year. The move was described as a 'significant investment' for the business but one which it had been planning for over two years. All the equipment in the gluten-free production unit is brand-new, it added, with 'strict procedures' in place to ensure no cross contamination. The range is also currently in the process of becoming Coeliac UK-certified, the brand said.
The gluten-free doughnuts can be pre-ordered online from 27 May with plans to launch them in its network of 13 stores over the next couple of months where they will be sold in sealed, boxed formats sent straight from the bakery to its shops.
"Doughnuts are a bakery product that many people on a gluten-free diet still have to go without," said Lara Thompson, head of product development.
"Our focus was to create a gluten-free collection that doesn't skimp on the good stuff – flavoursome, spongey and indulgent baked doughnuts. We found that by mixing our favourite flavours into the dough we could ensure each bite is moist and moreish."
Here's the full list of Doughnut Time's new gluten-free products: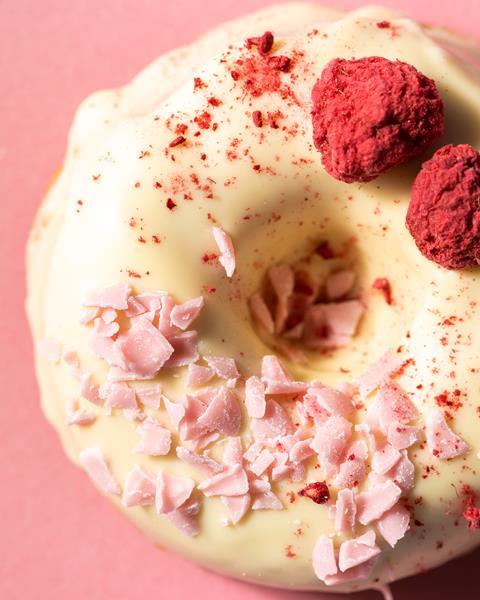 Selena Doughmez: a caramelised white chocolate & raspberry baked doughnut, dipped in white chocolate and topped with strawberry chocolate flakes and raspberries
John Lemon: a lemon drizzle baked doughnut piped with a lemon curd filling and finished with a zesty lemon glaze and citrus peel
Justin Timberflake: a chocolate orange baked doughnut, loaded with orange chocolate chips, dipped in milk chocolate and topped with a Cadburys Orange flake
Cake Gylenhaal: a double chocolate baked doughnut brimming with chocolate chips, coated in a chocolate glaze, rolled in cookie crumb and finished with a chocolate ganache and a drizzle of dark chocolate
Caramel Gibson: a chocolate, caramel & fudge baked doughnut, piped with a salted caramel centre, dipped in chocolate, filled with more salted caramel and sprinkled with caramel flake
Glen Coco: a coconut jam baked doughnut, piped with a jam, and finished with a coconut glaze and sprinkled with coconut
Candy Warhol: a funfetti & white chocolate baked doughnut, dipped in white chocolate and loaded with rainbow sprinkles - inside and out
Sprink 182: a funfetti & milk chocolate baked doughnut, loaded with chocolate chips, coated in milk chocolate and topped with rainbow sprinkles
Choc Norris: a vegan chocolate baked doughnut with a rich chocolate glaze and chocolate topping
David Bakeham: a vegan chocolate raspberry baked doughnut coated in dark chocolate and sprinkled with raspberries.
The NPD, which has been tested on 'coeliac friends', also features the launch of seven gluten-free six-pack doughnut boxes comprising: Afternoon Tea, Chocoholics, Birthday Cake, The Signature, Vegan Raspberry, Vegan Chocolates and Vegan Mixed.