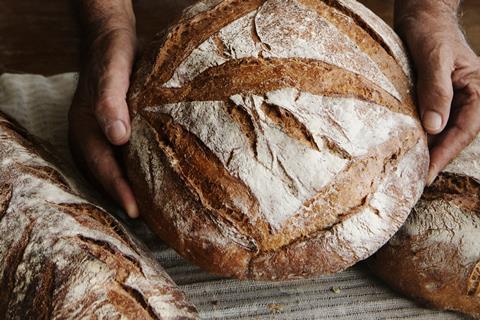 The Real Bread Campaign has launched a sourdough-specific companion to its Real Bread Loaf Mark.
The Sourdough Loaf Mark, launched ahead of the eighth annual Sourdough September event, is described as a visual aid for shoppers looking for genuine sourdough. It helps bakers and retailers give their customers an at-a-glance assurance as to which loaves, rolls, pizzas and more are.
To use the real bread mark, bakers sign an annual usage agreement that they will only display it to market products that fit with the campaign's definition of real bread – those made without processing aids, chemical leavening or other additives. In the case of the sourdough mark, it must be used to promote loaves that are leavened only using a live sourdough culture.
It comes as the campaign continues to call for a legal definition of sourdough and mandatory full ingredients labelling for all loaves.
In November, details of a proposed sourdough code of practice were presented for discussion with the Department for Environment, Food & Rural Affairs (Defra). This included three definitions that were suggested for labelling and marketing purposes.
However, the Real Bread Campaign claimed that in its current form the code would allow producers to 'hijack' the word sourdough.
"With no legal definition of sourdough in the UK and elsewhere, people are at the mercy of industrial loaf fabricators, multiple retailers, and even some smaller operators, choosing to use the word disingenuously or downright misleadingly," said Real Bread Campaign coordinator Chris Young.
"This new Sourdough Loaf Mark is a stopgap symbol to support Real Bread bakers, and for shoppers seeking a simple solution to shunning sourfaux for any and all reasons they do so."