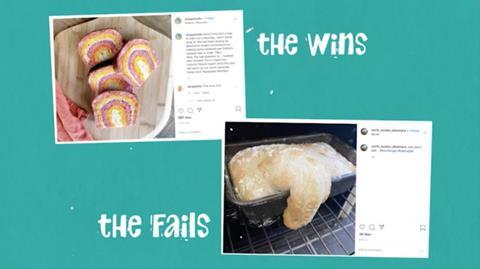 Roberts Bakery has launched a TV advertising campaign to mark its move into the direct-to-consumer market with a home baking kit and bakery bundles.
The #ShareYourBakes advert premiered on ITV last night (18 May), showing people making bread at home. Roberts said the 30-second ad featured all the fun of home baking – the mixing, the flouring, the kitchen dancing and eating – along with the wins and fails of the end result.
It also showcased the brand's first-ever home baking kit, which was launched as part of an online shop along with bread bundles last week.
Home bakers are encouraged to get involved by uploading images or videos of themselves baking to social media, using the #ShareYourBakes. A handful of these will be selected to appear in an ad that will air in the second burst of TV advertising next month.
"This campaign represents the nation's newfound love of baking – born out of both necessity and pleasure. And there's so much fun – and stress relief - to be had from making a loaf from scratch," said Roberts Bakery marketing director Megan Harrison.
"The TV ad campaign also enhances our position as the UK's next-generation bakery and shows how we're transforming our business and the bread and baked goods category as a whole. Our bright, bold creative and light-hearted tone show scenarios that mirror moments taking places in lives and kitchens across the nation every day, which makes it really relatable and engaging."
The campaign will continue to feature on prime-time TV slots over the next three weeks and will be supported by Roberts' social media channels.