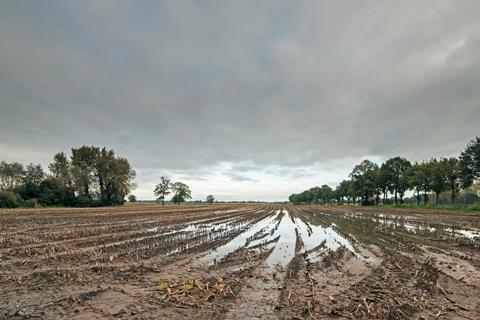 The sharp drop in plantings has left Britain facing the threat of a 'tiny' crop of wheat suitable for bread.
Agriculture & Horticulture Development Board (AHDB) data, published yesterday (8 July), revealed the wheat planting area in Great Britain was down 25% year on year, with every region recording a decline.
A key reason was wet weather last autumn and winter, which meant many growers couldn't plant and switched to spring crops instead. A dry spring has compounded the situation and raised fears that crops may produce less grain than usual.
"For most growers, this has been a season they would rather forget," said AHDB Cereals & Oilseeds Board chair Paul Temple.
Based on the planting figures, the AHDB has used two different regional yields, a five-year average less 10% and a 2012/13 yield, to arrive at a possible wheat production of 9.1Mt to 10.2Mt for England and Scotland.
This would be 35-42% lower than last year and down 31-39% against the five-year average.
Using the same yield scenarios, hard 'milling' wheat production could be between 3.6 Mt and 4.0Mt, compared with 5.7Mt last season.
"We can take this a step further and look at average pass rates for a reduced quality specification (Protein 12.5%, Hagberg 180s, Specific weight 74kg/hl) in the AHDB Cereal Quality Survey," stated James Webster, senior analyst at AHDB Market Intelligence.
"The functional Group 1 and Group 2 hard wheat milling crop* could be tiny, at 2.4-2.8Mt, against 4.1Mt last season."
"With this in mind, attention will very much be placed on the value of imported milling wheat this season."
Writing for British Baker last month, National Association of British and Irish Flour Millers (Nabim) director general Alex Waugh warned how a weak crop and the impact of Covid-19 and Brexit would bring further challenges for the milling and baking sectors.
*Nabim Group 1 and Group 2 are the varieties of wheat most suitable for bread flour.