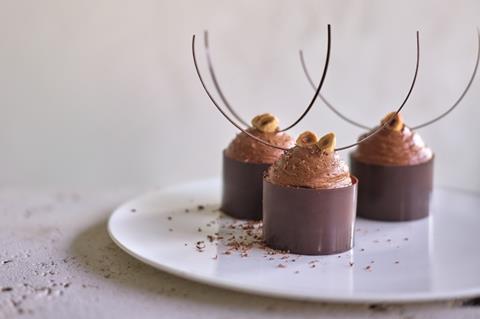 Functional gluten-free flours, ancient grain blends and egg-free glazes are just some of the new products to grace the bakery world.
Reduced sugar chocolate and fruit essences have also made an appearance.
Below, we round up the latest ingredients NPD to hit shelves: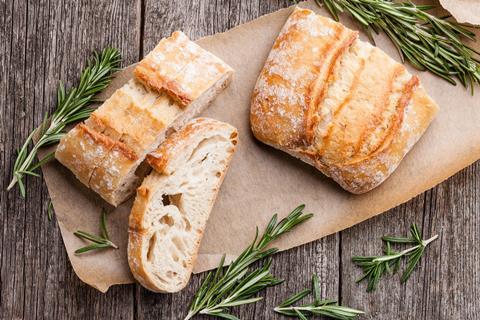 Ulrick & Short
Ingredients specialist Ulrick & Short has extended its functional flour range with a rice variant aimed at improving viscosity, texture and structure in gluten-free bakery applications.
Called Fazenda Nutrigel, the ingredient is said to act as a viscosity regulator and is geared towards improving the moisture, softness and structure in sweet and savoury bakery products from bread and cakes and muffins to gluten-free batters and coatings.
"In recent months, rice flour availability has been obstructed by a variety of issues impacting the supply chain," Ulrick & Short's supply chain manager, Matthew Hurst, said. "These challenges, coupled with a subsequent increase in demand has caused significant price rises across Europe, posing a challenge for many gluten-free bakeries.
"Fazenda Nutrigel offers manufacturers not just an additional option for the supply of a key ingredient, but also a highly functional ingredient with additional textural benefits." The company claims the ingredient is clean-label, non-GMO, allergen and gluten-free. Ulrick & Short first launched the Fazenda range of functional flours last August.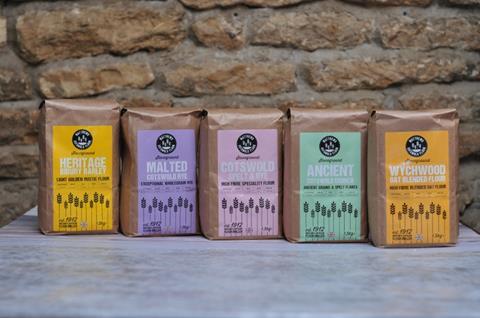 Matthews Cotswold Flours
Heritage and ancient gains are the inspiration behind some of the flours in Matthews Cotswold Flours' latest range.
Sold in 1.5 kg packs, the five-strong Stoneground collection comprises:
Stoneground Ancient Cotswold Crunch (rsp: £4.95), an artisanal blend of Emmer and Einkorn whole grains combined with Cotswold Spelt and torrefied spelt flakes.
Stoneground Heritage Bibury Barley (rsp: £3.65), a mix of Cotswold Heritage Barley and local high protein wheat which is said to produce traditional light golden breads with toasted barley flakes, giving bread a 'wholesome' crunch.
Stoneground Malted Cotswold Rye (rsp: £2.90), a malted rye flour with rye flakes.
Stoneground Cotswold Spelt and Rye (rsp: £3.10), a blend of Wholegrain Cotswold Rye and Cotswold Light Spelt flour, which claims to deliver a mild, nutty dark flavour.
Stoneground Wychwood Oat Blended Flour (rsp: £3.10), a speciality combination of wholegrain high fibre oats and oat flour, blended with high protein British grade 1 wheat from the Cotswold Hills.
"We are particularly thrilled that the new range includes flours created using heritage and ancient grains," Bertie Matthews, MD of Matthews Cotswold Flour, said. "These are amazing ingredients that have remained unchanged for years, as the name suggests.
"We love creating flour from these grains because they are fantastic for baking and offer a unique taste. They are also sustainably farmed in a way that benefits the soil and the farmer."
The flours are available directly from the company's website as well as other speciality and high street retail outlets.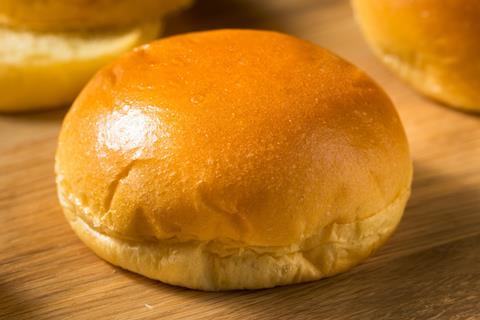 Dawn Foods
Dawn Foods has expanded its range of egg-free glazes with the introduction of Aftershine, a new post-bake powder glaze.
The powder is mixed with tap/cold water and then used for finishing directly after baking on hot products such as patisserie, bread, buns and brioche. As with the company's other glazes, Aftershine is suitable for both vegans and vegetarians and does not contain palm oil.
Dawn's range of glazes also includes Liquid Emulshine Extra, used for glazing before and after proofing, Unishine Plus, for general use before or after baking, and Instashine, a just-add-water pre-bake powder.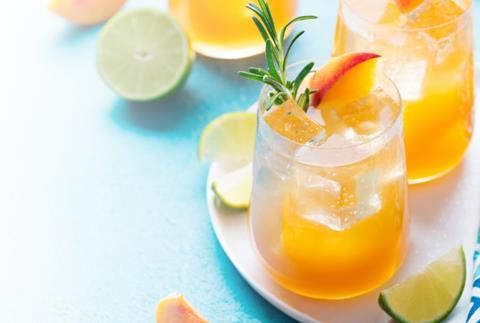 Synergy Flavours
Global extracts and flavourings supplier Synergy Flavours has unveiled a collection of fruit essences that can be used in desserts and beverage applications.
The Inspiring Fruits range comprises pear, sour cherry, peach, strawberry, raspberry and blackcurrant flavours. The sweetness of a cherry's favour and the jammy notes typical of ripened strawberries are captured using a steam distillation proprietary process to preserve the taste of natural fruits at their peak, the company said.
"Manufacturers are innovating and catering to demand from consumers for more natural ingredients across food and beverage products," Eric Zabiolle, Synergy's general manager of southern Europe, explained.
"At Synergy, we use a blend of art, science and insight to capture and preserve the best of what nature has to offer, so that we can provide our customers with tailored solutions whilst keeping product labels as 'clean' and natural as possible."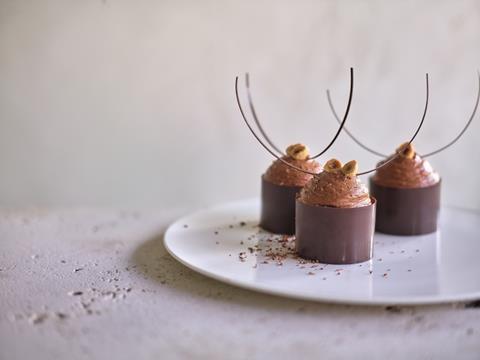 Puratos UK
Puratos UK has added two new chocolate products to its Belcolade range, each containing 40% less sugar.
Beloclade Selection Noir is described as a balanced dark chocolate made from 55% cocoa, with fruity notes and a smooth roasted cacao flavour, while Belcolade Selection Lait is a milk chocolate variant containing 34% cocoa that is said to have sweet caramel notes along with a cacao flavour.
The NPD is made using cocoa beans sourced from Puratos' Cacao-Trace sustainability programme.
"We know that our customers demand the best tasting chocolate for their customers, while consumers are looking for ways to improve their health and wellbeing without sacrificing taste," Philippa Knight, marketing director Puratos UK, said.
"Our new Belcolade products allow consumers to continue to enjoy the indulgent taste of chocolate while working towards their healthier eating goals, thereby achieving the best of both worlds."