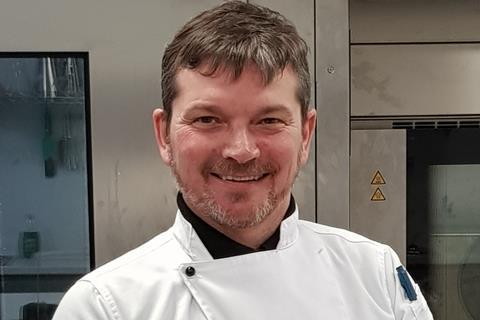 GDR Food Technology is hoping to pick up where it left off when the pandemic interrupted several years of prize-winning progress for the Scottish free-from specialist.
Trading as Just: Gluten Free Bakery, the Bellshill-based company has enjoyed strong and steady growth since its incorporation in 2013, putting down an early marker by winning Free-from Bakery Product of the Year in the 2014 Bakery Industry Awards (BIAs).
The accolade was welcome recognition for the product the company originally went into business to develop – white bread free from gluten, wheat, dairy and egg.
Original concept
GDR managing director Ronnie Stebbings, who started the business with 15 years of gluten-free baking under his belt, first had the idea after attending an allergy seminar in 2012.
"The question asked most at that show was, 'Do you make any bread that doesn't contain egg?' because obviously egg is an allergen," Stebbings explains.
"So, I went to a couple of people I know and told them I had this idea in my head to make a gluten-free bread without any egg. They said, 'Can you do it?' I said, 'I don't know, anything can be done.' Their exact words were. 'We'll take a punt on it.' So those two investors put up quite a large sum of money – more than I'd call a punt!"
The funds helped set up a 6,500 sq ft site where six months were spent perfecting the recipe. The efforts were rewarded when the company secured a retail listing for the product at Whole Foods, and the Baking Industry Award soon followed.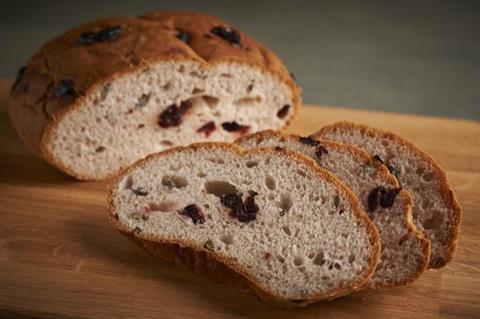 Onwards and upwards
Stebbings says the industry accolade "catapulted" the Just: Gluten Free brand into the market. "From there, we got listings in some major retailers nationwide and that helped us to build the business and grow our range.
"We grew it through foodservice and retail, and then in 2018 we ran out of space in our old site. We were running 24 hours a day, seven days a week and we were getting orders we couldn't take on. I went back to the investors and said, 'Guys, we're gonna need a bigger boat!'"
"The first award really kickstarted the business"
A new site was identified, which was transformed from what Stebbings describes as "a shell" into a purpose-built facility thanks to an investment of £3m, and the company looked forward to continuing its upward trajectory when it took residence there in June 2019.
Pandemic pain
Not long after the move, though, Covid-19 made its unwelcome entrance. "It was a big hit for everybody in the food industry," Stebbings recalls. "Our business was 35% foodservice and 65% retail so obviously we had a very trying time through Covid, which hasn't gone away.
"Before the pandemic we had numerous customers ready to come online but as hospitality basically closed down, it had a dramatic effect on our output. Losing 35% of your business overnight is a big hit for any company."
Spirits lifted
Nevertheless, Stebbings insists that optimism abounds within GDR from the green shoots of recovery that have emerged in recent months. "We had to put some people on furlough but everybody's back now and as things begin to open up, the business is just growing again so we're really quite excited," he explains.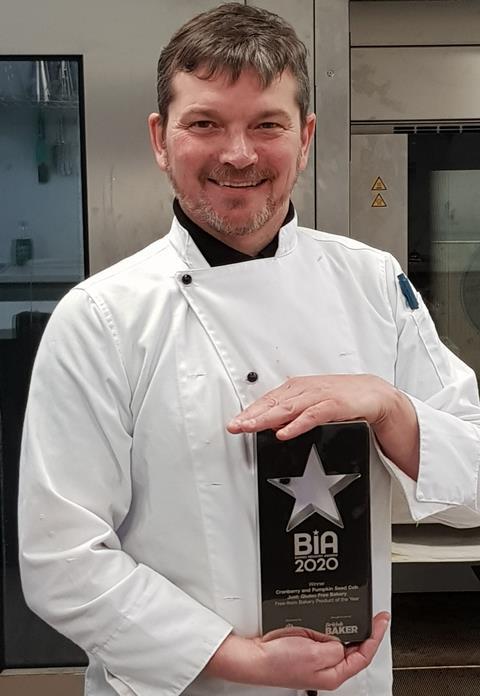 "We're beginning to look at export now and we've made some inroads there. We're actually getting a lot more contracts now and we're beginning to see a lot more activity through the vegan side as well because our product doesn't contain egg."
Even during peak pandemic there were reasons to be cheerful at GDR, though – not least the significant morale boost of a second Baking Industry Award for Free-from Product of the Year, this time in the 2020 BIAs, presented in recognition of the Just: Gluten Free Cranberry & Pumpkin Seed Cob.
The announcement of the award in January this year was a welcome cause for celebration at GDR, albeit socially distanced. "The first award really kickstarted the business so we were absolutely delighted to win the same award six years later," Stebbings says.
"It just acknowledges and confirms we're making great, safe products for our customers. It was great for the team as well, and really lifted spirits after the year everyone had."
Future focus
Now, the company has its eyes fixed firmly on the future, with a focus on NPD. "We've launched pizza bases, and we also launched a naan bread during the pandemic," Stebbings explains.
"Most of our products have been savoury but we've got some sweet lines coming – cake lines, all gluten-free and vegan as well. There are also a few exciting lines in development such as wraps."
So just as Stebbings looks back at GDR's first triumph in the BIAs as the key moment in the birth of the business, he might well come to regard the second as the start of a bright new chapter in the company's story.