Recalling the past three years, Jones Village Bakery managing director Robin Jones says: "We've been through the mill."
You could say that's an understatement. "We had the fire on the 19 August [2019] so we lost our head office, our main bakery and some facilities in our other bakeries which travel through the main site," he explains. "We then went into Covid, which was a huge kick in the teeth."
Thankfully nobody was injured in the fire, but its legacy can seen in the sculpture erected from a steel girder reclaimed from the wreckage sited outside the new bakery and head office. "It is a lasting tribute to the heroic resilience shown by all the Village People when our darkest day turned into our finest hour," Jones believes.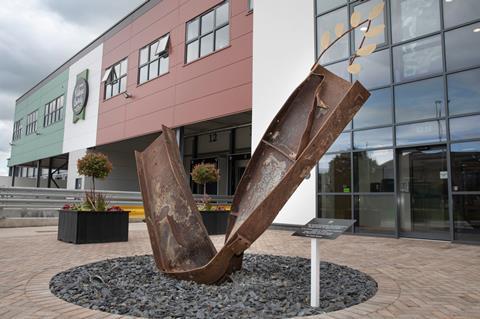 Despite a challenging few years, the Jones Village Bakery managing director still has a smile on his face. Like a phoenix rising from the ashes, the Welsh family business is thriving once again.
In March 2021 it secured private equity investment from Limerston Capital which has accelerated growth, and in July it opened a 140,000 sq ft 'super bakery' four times the size of the one destroyed in the fire, with another line due to be operational later this year. In March this year it signed a deal with fast food chain Five Guys to make its burger buns and hot dog rolls for stores in the top half of the UK.
"Out of that doom and gloom on 19 August certain things have blossomed in this business," Jones says.
"We will run through brick walls for our customers"
Plans for the super bakery were in the works long before the fire gripped the site, but two hours into the tragedy Robin, his brother and projects director Christien, and their dad, Alan, decided to relocate it from the original site to one further up the road that they had planning permission for.
Now, 36,000 rolls an hour are whizzing off the 120m-long state-of-the-art production line which was imported from Italy and Holland. The bread roll plant has better weight control than previous models, the business says, and the recipe is allocated to each tray meaning the prover and oven settings are changed automatically to maximise efficiency. Described as a next generation bakery, the production line has been designed to eradicate manual lifting and instead focus staff efforts on quality control.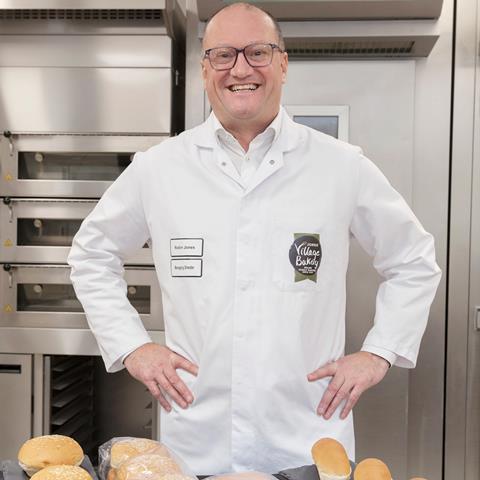 More to come
This is just the start of the firm's plans. Jones notes "we have the next three years of investment already planned", although he is reluctant to share details so as not to give his competitors an edge. Don't expect radical changes though. "We're not looking to redesign the wheel," Jones says. "We're going to grow what we're good at doing. We're going to champion breakfast, make what we're doing better so are looking at technical innovation, food innovation and how we can better service our customers whether that be through flexibility, reducing waste and so on."
These customers include some of the nation's biggest supermarkets as the business produces a myriad of own-label rolls, crumpets, pancakes and more for them as well as gluten-free products alongside the Village Bakery branded range. The ranges are continually expanding, with 45 new products rolling out of its development kitchen and onto shelves in the past six weeks alone.
"We are not actively looking for new customers, we are actively looking at what we can do better for our existing customers," Jones adds, recognising the role operations director Simon Thorpe plays in maintaining standards and customer service. "We will run through brick walls for our customers. That's our can-do attitude and we want to be the go-to supplier for the future."
All for one
Village Bakery strives to produce the best crumpets, pancakes, rolls and Welsh cakes it can, but Jones refuses to be drawn into debates that pitch artisan producers against bigger players in the market. He applauds London bakeries able to sell their sourdough loaves for £12 a pop because they recognise "the true worth" of the products.
"Let's not have those battles between industrial and artisan"
"Every time I see that I think 'well done'. Bakery, he believes, is a friendly industry full of comrades willing to share information and bounce ideas off each other, so long as they're not direct competitors, of course. It's this collective passion and camaraderie which Jones believes will benefit the whole industry.
"Let's not have those battles between industrial and artisan," he adds. "Let's have one agenda and that's to make better products, employ better people and to retain some skills."
Employment and training are high on the agenda for Jones, who observes the recruitment difficulties seen across the wider industry. His solution to this is nurturing staff, developing skills, and hopefully building loyalty – something that was proven in the aftermath of the fire. "We spent years and years building up a team with skills – we didn't want those skills to go away. We redeployed everybody and kept them in the business," Jones explains.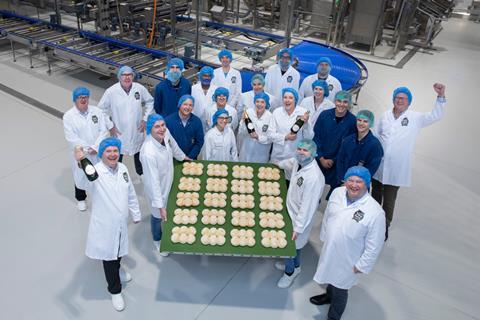 Future focus
The business opened its first training academy in 2015 and has trained more than 70 apprentices in the past decade. "Those guys are our bakery managers and shift managers. We've invested so much in that and it's paying dividends now," Jones adds.
Ashley Dawson, who joined the company in 2015 as business sustainability and improvement executive, was promoted to bakery manager for the new site ahead of its opening, while Florence Roberts, who joined straight from university, was appointed group NPD manager.
"We want to be the go-to supplier for the future"
Jones Village Bakery has made an active effort to recruit school leavers, those aged 16 and 17 years old, by promising them a living wage as well as nine-to-five shift patterns and weekend ones for students. "People are all for writing off young people but they're our future," Jones says.
"It's a sexy industry if we sell it in the right way," he adds. "Blue hair nets and long hours are not going to sell it to anybody. We need to share the passion and I think the industry leaders out there need to drive the agenda because craft bakers and master bakers are doing it day in and day out."
Rising costs
Another industry-wide challenge looming is that of inflation, but Jones is keen to take a pragmatic approach. "We've got to be careful we don't talk this up into a crisis," he says. "Yes, flour is expensive, yes the cost of living has increased, but so have wages and we've never had such full employment in our history."
He urges the industry to "not panic" and to be "open and honest" with customers. "Some of the supermarkets need to listen because we're not all trying to take advantage – we've got costs that we're trying to recover, whether that be wheat, gas or electricity. If we're all fair and all have a slice of the cake, we'll get through this."