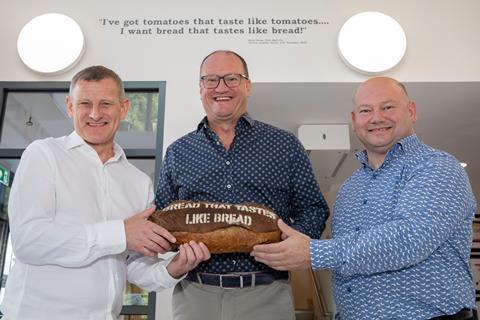 Jones Village Bakery has marked a deal to supply a new range of sourdough bread to Marks & Spencer with a celebratory visit by outgoing M&S chief executive Steve Rowe.
The Wrexham-based business has opened a new £16m production line at its 140,000 sq ft plant to produce the M&S sourdough range, and Rowe's visit was his last official call for the retailer, having now handed the reins to Stuart Machin and Katie Bickerstaffe.
Jones Village Bakery managing director Robin Jones revealed that the M&S deal was struck following a virtual meeting during lockdown in October 2020 when Rowe challenged a group of bakery suppliers to produce 'bread that tastes like bread'.
"That gave us the inspiration to work with M&S to develop the range of sourdoughs that we have done," Jones said. "Appropriately, the production line was up and running just in time for this big day.
"Today marks the end of one era but the beginning of an exciting new chapter for the Jones Village Bakery and we're looking forward to what the future holds working with M&S, so it's onwards and upwards, really," Jones added.
Former M&S boss Rowe was welcomed to the 'super bakery' – opened in 2021 after fire devastated the former plant on the site in 2019 – by a 50-strong Rhos Male Voice Choir singing Guide me, O Thou Great Redeemer, with its famous 'bread of heaven' chorus.
"That's probably the finest welcome I've had in a factory ever in my 40 years of retail," Rowe said. "I've never actually seen a male voice Welsh choir live before and that tone of music, the sound, the power of the sound was fantastic. Bread of heaven was absolutely appropriate for what I believe is one of the finest bakeries in the world."
According to Rowe, M&S is "growing its food business substantially" and wants Jones Village Bakery to be a "major part" of the process. "We want the most sophisticated facilities because they produce the best products, and this has a new sourdough plant here. It will be the finest in the market," he said.
"To come back to this factory after what was a terrible fire back in 2019, to see the level of investment that's been put in to create a world class facility with fantastic products is a great way to finish my time with M&S," Rowe added.