Since taking over as CEO at bakery ingredients wholesaler Bako NW in 2017, Mike Tully has substantially increased group profits, and put an aggressive five-year growth plan in place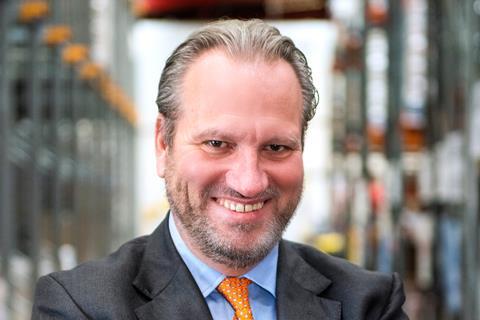 Mike Tully isn't afraid of making hard decisions. "That's what I enjoy doing – restructuring businesses, making them profitable and driving them forward," he says.
His commercial acumen was one of the reasons he was brought on board as CEO of Bako North Western Group (Bako NW) in 2017, having previously headed up Bako Northern & Scotland.
"I have managed to take the profits from £100,000 to £2.8m," he explains, noting that turnover and margins haven't gone up. So, how did he do it? In short, market segmentation and rigid cost control.
"The key thing is cost. I'm Scottish, so I have a good handle on costs and financial benchmarking," he says. "I've always known that the Bako Group, if you financially benchmark against our competitor group, was totally overstaffed. Then it's a concentration on market segment and mix of customer types."
Baking is one of the last sociable industries in the UK
Bako NW – which comprises Bako South Eastern in Wimbledon, Bako Northern & Scotland in Durham and the largest of the three Bako North Western in Preston – is the largest distributor in the UK of bakery ingredients to artisan bakers, Tully says. Operating as a cooperative, it delivers 3,000 pallets of goods a week to a customer base of around 6,000.
Products include chilled, frozen and ambient bakery ingredients from nuts and bolts such as fats and oils, flours and mixes to caramels, frostings and finished products such as muffins. Among them is Bako's own brand, Bako Select.
With such a wide array of products in its portfolio, it could be hard to keep up with trends. But Tully, and the team at Bako NW, are driven by what customers want. "As a wholesaler, I'd never say 'no, we're not stocking that'," he says. "If I've got a customer who's a baker who wants it, I'll stock it.
"The big difference is an increase of frozen products, such as frozen sausage rolls, frozen French products – breads and Viennoiserie – and so on. People expect to see these products around the UK and some areas are quicker to adapt than others," he says, discussing changes he's seen in the industry.
The impact of Covid-19
With experience in whisky, shortbread and, for a short while, the legal world, it was Tully's softer side that brought him back to baking. "Baking is one of the last sociable industries in the UK," he believes, with lots of family-owned SMEs among businesses Bako supplies. "You get that camaraderie and build up long friendships."
Sadly, these friends, like Bako NW, haven't been immune from the effects of the pandemic. However, Tully notes that Bako is "quite close to pre-Covid levels" of sales and was somewhat protected due to the breadth of its customer base.
Prior to this, the company was poised for growth – something Tully hopes to return to shortly.
"Our plan is to aggressively grow the business over the next five years, and that will be organic growth and by acquisition. We need a team of people in place now as opportunities come along, making sure you've got the foundations in place for growth," he adds.
There are two steps to this. "The first is to get back up to the £125m we saw pre-Covid. The next is to get to £200m over the next five to 10 years," Tully says, adding that Bako is always "scanning the horizon for suitable, complementary businesses".
Our plan is to aggressively grow the business over the next five years, and that will be organic growth and by acquisition
Bako has made several high-profile hires to aid future strategy, including former Poundstretcher boss Ian York who has stepped in as MD of Bako North Western. David Armstrong, who was previously head of trading at Spar UK, has also come on board as commercial director.
The future of logistics
Digitalisation will play a key role, in terms of route optimisation and efficiency for its fleet of 70 vehicles as well as online sales. But there's still a need for human intervention to ensure customer needs are met.
"We're putting in a new ERP (enterprise resource planning) system next year. That will help across the whole business on stock control, customer service levels, route planning, product marketing to customers and more. It will certainly enhance our competitive edge in the UK."
When it comes to the fleet itself, Bako is looking at how to better utilise its trucks in terms of usage. Bako has explored electric, but "the technology isn't great at the moment". Pre-Covid, there were plans for an electric trial in London, but this has been put on hold.
"That may change how we distribute. You're not going to get an electric truck that can do 1,000 miles so you might find that the distance between depots has to get smaller – satellite depots, electric trucks and more frequent deliveries may come into our industry," he says.