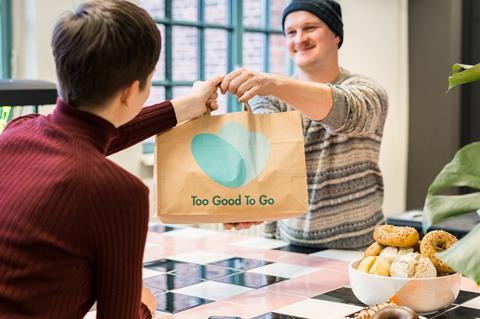 Bako has secured a deal with food waste fighting app Too Good To Go which will provide free sign-up for all Bako customers.
The wholesaler will also donate £25 for every sign-up to food redistribution charity FareShare, which works with more than 10,500 frontline charities and community groups across the country.
The move is designed to help independent bakeries across the UK reduced their food waste. Earlier this year, research by Too Good To Go revealed that less than half of UK bakeries have a documented plan in place to reduce food waste, with ready-made sandwiches high up the list of wasted items alongside cakes, bread and pastries.
Bakeries signing up to the app can sell their surplus goods to consumers, who can search for nearby businesses, purchase a 'Magic Bag' of products and collect it at an allotted time.
"With 44% of all bread currently wasted, bakeries across the UK have a huge opportunity to help tackle this cycle of waste, which is why we are very proud to have partnered with Too Good To Go in providing free access to the scheme for all our customers," said Bako commercial director David Armstrong.
Paschalis Loucaides, UK managing director at Too Good To Go, added: "I'm thrilled to be launching this partnership with Bako to help bring even more independent bakeries into our food waste fighting community. If we are to take a bite out of the UK's food waste problem we need as many businesses as possible taking steps to reduce the volume of food being thrown away, and with this latest partnership I'm confident the baking industry can lead the way."
The app, which was launched in 2016, already works with some well-known bakeries and coffee shops, including Paul UK, Costa, Pret, James Hall and Flour Pot Bakery. It operates in 16 countries with 107,000 partner stores globally and has saved 88 million Magic Bags from going to waste worldwide.