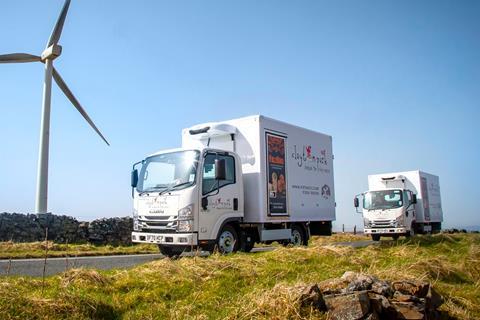 Lancashire-based Clayton Park Bakery has invested in a fleet of low carbon vehicles to help it meet rising demand for its products.
The wholesale bakery has acquired four new Isuzu Grafter 'Green' vans which have been adapted for use by the bakery with temperature control while the exterior boasts its 'Baked for the taste' livery.
They utilise technology that "enables a reduction in CO2 emissions, greater fuel efficiency because of the reduced weight of the cab, and a significant noise reduction", according to the manufacturer.
"Clayton Park Bakery is a company routed in tradition, but our focus is firmly on the future," said Paul Bradley, marketing manager at Clayton Park Bakery. "With these new vehicles we'll be able to cut our carbon footprint and keep our customers' shelves stocked for years to come."
Clayton Park Bakery began in 1995 selling sausage rolls and meat pies in Blackburn Market. Since then the company has gone from strength to strength, and now produces eight million products every year, including pies, cakes, traybakes, bread and sandwiches.
Its products are available in north west Spar shops as well as Asda and Booths stores. The pies are also sold at sporting venues like Liverpool, Everton, Burnley, Wigan and Preston football clubs.
Bakeries are increasingly looking at the environmental impact of their vehicles. Just last month, Warburtons rolled out its first 16-tonne all-electric truck.