Being a woman in the UK milling industry isn't exactly run of the mill, as Emily Munsey can attest to.
She's represents the fifth generation (and first woman) of the Munsey family to join the Wantage-based Wessex Mill which specialises in small scale production of flour for the baking industry.
"There are an increasing number of female millers, especially those of us at family companies," she explains. But, there are still barriers to entry and misconceptions which can be off putting. "There's an idea that milling involves a lot of heavy lifting still and it doesn't necessarily in a big mill."
Munsey says milling is a "great" and "supportive" place to be. "I've never had any discrimination in the milling industry at all – if anything I've had more support." But, she admits, "in business it's more difficult", adding: "I've had some interesting situations with farmers and some bakeries in the past, but once we all work out that we need to get the job done it tends to be fine."
There are an increasing number of female millers, especially those of us at family companies
Women are in the minority by far, as Munsey notes just 10% of people in a young millers development group she was part of pre-Covid identified as such. However, she believes the industry needs an injection of new talent, regardless of gender, if it is to thrive in the future.
"We're very aware that nobody really knows we exist," Munsey notes. "There is a dearth of any young people so in the next 20 years we need a significant amount of younger talent coming on."
Raising the industry's profile is something UK Flour Millers has put at the heart of its strategy following a rebrand from the National Association of British and Irish Flour Millers. A survey revealed most people outside of the baking world didn't know the flour milling industry even existed.
"There are lots of roles attached to milling without being milling, whether its grain buying or quality related roles. Visibility to know those roles and companies are out there is important," she adds.
To aid in her role, Munsey undertook the seven modular courses managed by UK Flour Millers in two years when she joined the family business in 2017, having originally obtained a degree in natural sciences. This means she can "run pretty much anything in the mill".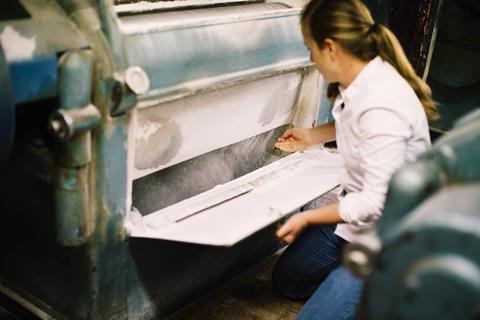 A day in the life
So, what does a working day in the life of Emily Munsey look like? Wheat is, expectedly, a priority whether it's buying it, planning which wheat is coming from which farmers, communicating with said farms and organising the disposal of wheat feed, which goes back to the farm it came from.
Wessex Mill buys wheat from around 20 farmers, all within a 30-mile radius of the mill, which is housed in redbrick Victorian warehouse. The wheat is batched so the flour is traceable back to the farm throughout the whole process. More than 100 bakeries, from big craft players through to artisanal sourdough specialists, buy from Wessex Mill as well as home baking enthusiasts.
Munsey also wears a transport manager hat and then picks up anything else that might require some attention, such as speaking to bakers or members of the public who have queries.
"Then I will fill in on absolutely anything required. I'll pack flour, I'll go out on a lorry. I'm also running the sales desk which is communicating with bakers to see what flour they want and sometimes I'll be running the lab. You just start at the beginning and plod through the jobs."