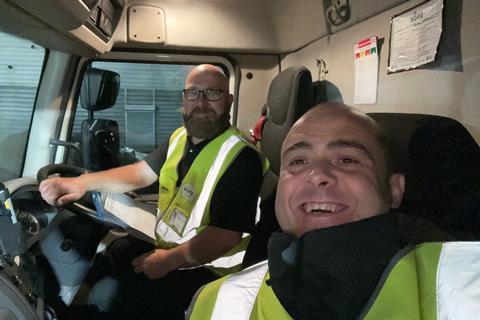 With a recent Road Haulage Association (RHA) survey estimating a shortage of more than 100,000 qualified drivers in the UK, there's no better time to give due recognition to the drivers whose tireless efforts ensure the bakery industry runs smoothly.
Paul Empson, general manager at Bakers Basco spent an early morning shift with Steve Thomas, the longest serving radial driver at Hovis in Avonmouth, Bristol, with 32 years' service under his belt, to find out more about what a typical day looks like for a bakery delivery driver.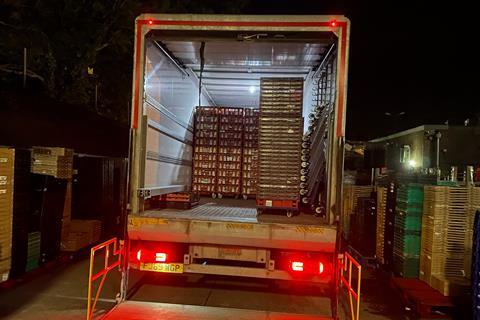 It's far from a typical start to the working day for me – but for many bakers and delivery drivers across the UK, starting the day in darkness is standard practice to ensure that supermarkets and grocery stores are stocked with fresh bread and baked goods before the sun rises and the breakfast tables are set in homes across the country.
I've worked in logistics for a long time so I know the effort that goes in to distributing goods back and forth daily, but what strikes me about Steve is that, even at this unsociable hour of this morning, he's chatting away, sociable as ever – in a way that many of the rest of us would only be after a few morning coffees at least.
Then I discover that it takes at least six coffees to help get Steve through his shift (much less than the 20 cups it used to be). It's actually this social interaction with people and customers that makes the job so attractive.
Early starter
Turns out early starts are something Steve is very much used to, having done it for all his working life. All he has ever known is the baking industry and driving. In fact, he first started helping out with bakery deliveries at the age of 10. By the age of 14, Steve was hooked on becoming a driver and started to learn more and more about what it takes to be not just a driver but a driver/customer service agent.
It is important to Steve that he has the all-round relationship with his customers and provides them with a service-with-a-smile attitude.
Steve has grown up around baking. Other members of both his and his wife's family also worked in the baking industry and indeed at the old Hovis Bristol site – the very place where our journey begins this Tuesday morning at 1.15am.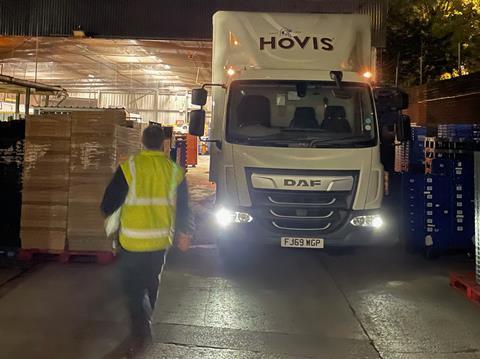 On the road
After loading up the van, tachograph in and vehicle checks completed, we are on route to our first stop: Asda in Bristol.
As we're driving along, I can't help but ask Steve how he keeps himself entertained when driving. Radio is the medium of choice – not just so he can have a singalong but also to hear local news updates and listen out for any road problems that might impact timings on his route.
The HGV driver shortage has been an issue for some eight years or more
After the first drop, we carry on through Bristol, Wells, Glastonbury and Cheddar Gorge and make 16 drops in total along the way, covering a total of 165 road miles. What impresses me most is the great relationship Steve has built up over the years with all his customers and how they all look after each other – it's a real community. In fact, Steve counts many of his customers as friends.
Upon arrival, the gate is always opened quickly, returns are ready, goods checked efficiently between customer and driver and the whole process is seamless.
Refuelling
Usually, Steve would grab a ham salad sandwich for lunch but as he has allowed me to impose today, I treat him to a bacon and sausage sarnie this morning. It's during this break that I turn the focus to a pressing issue affecting our industry – the national HGV driver shortage.
Steve tells me he doesn't believe it's entirely related to Brexit or Covid-19 but has been an issue for some eight years or more due to an aging workforce and the fact that no one has done anything about it. It's always been there – only now, it's got people talking.
This issue is something that I hold strong opinions on – and I've spoken before about how it has created a perfect storm which urgently needs government intervention before the supply chain really collapses.
We only ever see bad press around driving and how difficult it can be but how about a real push on the positives so that we can get more young people entering the world of driving?
Steve is living proof of this – 45 years into his driving career, it's all he's ever known, and would he have it any other way? Not at all.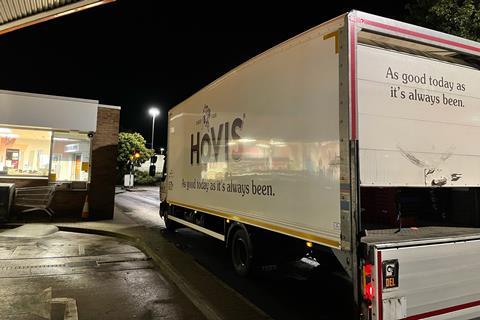 Challenges
But driving doesn't come without its difficulties. For Steve, the early mornings are becoming more challenging as he gets older. Road rage among car drivers has increased over the years and he notes that, with people more and more in a hurry these days, there is a lack of tolerance generally on the roads towards fellow drivers.
Added to that, the carnage caused on the roads of Steve's route around Glastonbury each year has a knock-on effect with delivery times and additional hours due to heavy traffic… but he knows that there are large groups who wouldn't agree with this.
Being a delivery driver is varied, rewarding and we should celebrate the work that these folks do every day
On the flipside, it's the interacting and talking with people that gets Steve through his day. And it is that, too, that stands out to me as a highlight of this trip – the connection between driver and customers; the efficient drop-offs; and the satisfaction of a job well done.
If you ask me, being a delivery driver is varied, rewarding and we should celebrate the work that these folks do every day – as well as attracting young drivers into it for the long haul.
As Steve's 10-hour shift comes to an end and we return to Hovis in Avonmouth, it's 11.30am and only now that I realize I must get on with my own working day – to manage and monitor where all that equipment which transported the goods is going next to ensure it ends up back in the right place for the ensure that same seamless process happens again tomorrow.