The issue of lost bread baskets has been a persistent thorn in the industry's side, but a joined-up approach and advances in technology are making a real difference.
Baskets and dollies that have been stolen, broken or returned to the wrong baker can set a business back thousands of pounds every year. And the cost isn't just financial – there's an environmental price to pay from the high level of waste, too.
According to the Federation of Bakers (FoB), there was a time when business planning assumed that basket losses would be in the region of 70%.
However, industry efforts succeeded in driving the number down to 13% by December 2009, and then even further to 11.5% by 2015.
It's an ongoing battle, but one the industry appears to be winning. So, what's the story behind the numbers?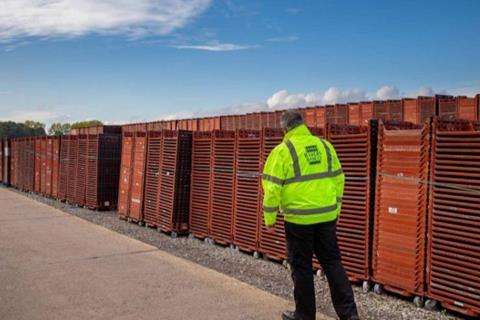 Industry collaboration
A key step on the road towards a joined-up approach came in 2006 with the setting up of Bakers Basco, an FoB-led venture originally involving five of the UK's biggest bakeries: Allied Bakeries, Hovis, Fine Lady Bakeries, Frank Roberts & Sons and Warburtons.
The original mission was to design, source and manage a new bread basket that would, in time, become the accepted industry standard. The aim was to achieve significant cost savings in terms of the design, raw material procurement and production of both basket and dolly.
"The establishment of Bakers Basco in 2006 has been transformational in the efficiency of basket management in the industry," says Gordon Polson, FoB chief executive.
Over the past 14 years membership of the Bakers Basco scheme has increased from the original five shareholders to cover 21 user members varying in size, accounting for the dispatch of more than three million baskets each week.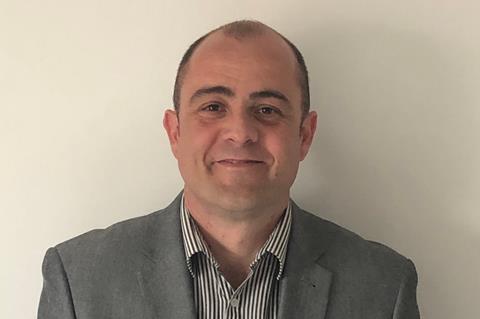 Basket design
"Our bread baskets and dollies are made to carry bread and related bakery products safely and efficiently and are designed to last for up to eight years," says Paul Empson, general manager for Bakers Basco.
"When we first created our baskets, we brought together a team of experts, including bakers, logistics companies, retailers, equipment manufactures and materials scientists to ensure that they were not only incredibly sturdy but able to be used as a merchandising unit, cost-effective for the retailers, sustainable and environmentally friendly."
The culmination of this mission is the Bakers Basco Omega basket, which holds ten standard loaves and a 'varying number' of morning goods.
Delivery drivers can either wheel or carry baskets from delivery vehicles depending on order size. The baskets and dollies are both designed to be modular and easily stackable, with a view to reducing space in trucks and vans, as well as in warehouses, wholesalers and retail outlet storage areas.
Missing in action
Although they're designed for maximum efficiency in the task of carrying bread, people still want to 'borrow' the baskets for a whole range of other purposes. Not only does this have the potential to cause significant disruption to the supply chain and negatively impact the environment, but it also baffles and frustrates members of the industry in equal measure.
"You wouldn't walk into someone's house and take something when you leave, so I often wonder what people think gives them the right to take something when it has somebody's name as owner written on it," says Joe Street, chairman of Bakers Basco. "They don't consider it theft, but it is."
While the baskets carry embossed warnings stating who they belong to and how they should be returned, that's not enough to prevent people diverting them for their own use. Therefore, Bakers Basco has implemented and audited several operational controls across all of its membership to promote the retention of equipment.
"I wonder what people think gives them the right to take something when it has somebody's name on it"
Recovery team
With a current equipment pool of approximately four million Omega baskets and 450,000 dollies, Bakers Basco employs its national asset recovery team to locate misappropriated equipment and use negotiation, education, collection and, where necessary, legal enforcement to reclaim the company's assets and financial losses.
The organisation reports that, to date, this special division has undertaken just under 62,000 investigations and recovered over two million Omega baskets and wheels.
The basket attrition rate for Bakers Basco licensees was 8% for the financial year of 2019-20. Since the launch of the enterprise the average net attrition rate (total losses less baskets that have been recycled due to damage) stands at 9% for baskets and 11% for dollies.
Despite these wins, basket loss remains a very real problem, and the organisation is not resting on its laurels. Over the last year, Bakers Basco has stepped up its efforts with a 112% year-on-year increase in visits made by its recovery team to reclaim equipment that has been delayed, lost or stolen.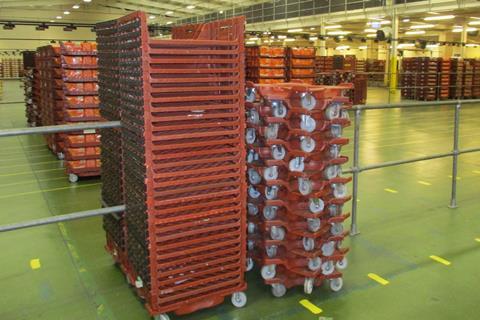 Tracking technology
Its investment in basket recovery has also seen Bakers Basco deploy GPS technology to identify and track products. The company has even used evidence collected from trackers in court, showing satellite maps illustrating the unauthorised journeys some of the baskets have taken.
Other technology has been used elsewhere in the industry to keep tabs on baskets. In September 2020, for example, RedBlack Software added a new tracking feature to its Cybake bakery management system.
The software allows delivery drivers to record which baskets have been delivered and collected, giving subscribers the ability to keep track of the assets. This then helps them to avoid unnecessary costs by assigning value to the baskets, showing customers how many of them they are currently holding and invoicing for any that aren't returned.
"The loss of bakery handling equipment has been a problem for more than 50 years"
Major contribution
So, the fight against basket attrition continues. Only last September, Bakers Basco extended its awareness campaign to delivery drivers and logistics managers. This initiative involves regular briefings across shareholders' sites to raise awareness of the organisation's work from an operational perspective, encouraging drivers to report any suspicious activity.
Veterans to the cause such as Street are pleased to be part of the effort in making a difference.
"The loss of bakery handling equipment has been a problem for more than 50 years," he says. "In fact, it was always the first item on my general manager's agenda when I started my career as a junior bakery manager – we always lost kit, and we always lost a lot of it.
"The success in bringing the attrition rate down is reflective of how the right kind of plastic, used in the right way through creating a circular economy, can contribute in a major way to helping save the environment."