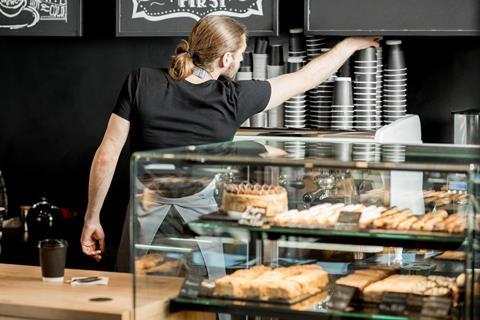 With new calorie labelling rules coming into effect in April, compliance specialist Bureau Veritas is urging affected bakeries to ensure they are fully prepared.
The Calorie Labelling (Out of Home Sector) (England) Regulations 2021, effective from Wednesday 6 April, require large food businesses (those with more than 250 employees) to provide calorie information on physical menus, online menus, food delivery platforms or food labels.
The legislation is aimed at the out of home sector, which according to the government is generally considered to be any outlet where food or drink is prepared in a way that means it is ready for immediate consumption, on or off the premises. Within this scope are bakeries, cafés, delis and contract caterers, along with many other businesses.
Affected operators will be required to include the energy content of the food in kilocalories (kcal), reference to the size of the portion which the calorie information relates to and a statement that 'adults need around 2,000 kcals a day'.
The measure is being introduced by the government as part of its drive to tackle obesity among adults and children in the UK, with the aim of promoting consumer choice for healthier meals and enabling people to make more informed decisions regarding the food they eat.
"The health of adults and children has long been a hot topic with various tactics put in place over the years to reduce unhealthy eating, including restrictions on television advertising," said George Macfie, food technical manager at Bureau Veritas.
"However, with data now showing a staggering number of adults measuring as overweight or obese, the government is taking much-needed action on larger food businesses to ensure they play their part in supporting informed and smarter food choices."
Bureau Veritas emphasised the importance of calculating calorie information using average values and figures supported by data, based on either the manufacturer's analysis of the food, a calculation from the known ingredients used or from established and accepted data.
The organisation also said it will be key for affected food operators to educate staff members to pave the way for a successful transition to the new rules.
"These food businesses have been focusing on processes to meet the requirements of other regulations such as Natasha's Law," said Macfie. "Now the focus turns to calorie labelling. This is a positive change in the provision of nutritional information which must be researched, planned for, and welcomed."
While smaller food businesses are not subject to the regulatory requirement, the government is encouraging them to voluntarily adopt calorie labelling. It has also advised that when determining which operators are affected by the new rules, a franchisee will be treated as part of the franchisor and not as a separate business.