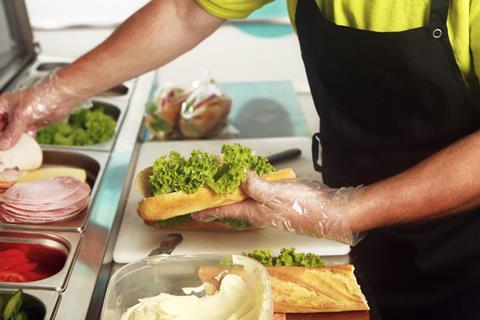 The allergen legislation known as Natasha's Law is now in force across the UK, ushering in new labelling rules for pre-packed for direct sale (PPDS) food.
As of 1 October, an individual label showing the name of the food item and a full ingredients list is required on all food prepared on the premises where it is being sold, before the consumer purchases it, and either fully or partially enclosed in packaging.
The law, officially named the UK Food Information Amendment 2019, was passed in September 2019 after teenager Natasha Ednan-Laperouse suffered a fatal allergic reaction to sesame in a baguette bought pre-packed at Pret A Manger in 2016.
Emily Miles, the chief executive of the Food Standards Agency (FSA), hailed the new regulations as a "huge step" in improving the quality of life for the two million people living with food allergies in the UK.
"If these changes drive down the number of hospital admissions caused by food allergies, which has increased threefold over the past 20 years, and prevent further tragic deaths such as Natasha's, that can only be a positive thing," said Miles.
"I understand how difficult the past 18 months have been for food businesses, and I am grateful for the effort that so many have made to prepare for the changes," she added.
Local authorities responsible for enforcing the law are being advised to take a proportionate and risk-based approach to breaches of the law, except where circumstances require immediate action. The FSA is recommending that minor errors are dealt with through extra guidance and support with the changes, particularly during the early months.
In July, the FSA launched a hub to help businesses, including bakeries and cafés, comply with the new legislation. However, at the start of September global standards organisation GS1 published research that showed eight in 10 food business owners felt unprepared for the regulations, and four in 10 people across the food industry had never heard of Natasha's Law.
Anne Godfrey, CEO of GS1 UK, emphasised the importance of supply chain traceability for the successful launch of the regulations.
"Implementation of this vital law is paramount to ensuring the safety of all consumers," she said. "However, we know that just a few weeks ago, a concerning 80% of business owners in the food industry felt unprepared ahead of this deadline.
"We are therefore calling for greater industry transparency and collaboration in support of these businesses alongside the increased digitisation of food supply chains, helping manufacturers, retailers and business owners accurately track all of their food item ingredients so that customers can be fully informed, and lives saved," Godfrey added.