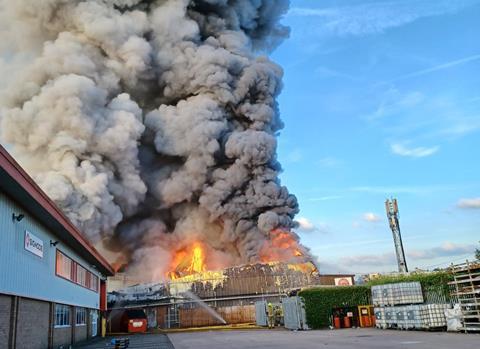 The cause of a major fire at the David Wood Baking plant in Netherton, Dudley, has been confirmed as accidental by investigators from West Midlands Fire Service.
The Leeds-headquartered company, which operates eight production sites across the UK, has yet to respond to requests for comments on the incident including how it will affect supply to customers.
Described as its 'Dudley Super Site' on the David Wood website, the purpose-built facility on Crackley Way produces a variety of own-label baked goods for businesses in the retail, restaurants and food-to-go sectors. These range from handmade artisan bread and savoury pastries to food-to-go meals and sweet treats.
The fire broke out around midday on Friday 15 September on the first floor of a factory unit and spread quickly to engulf around half of the building.
At one point later that evening, more than 100 firefighters, 30 fire engines, and three hydraulic platforms were employed in tackling the blaze. A high-volume water pumping unit was used to draw thousands of litres a minute from a nearby canal.
Water was also used to cool a number of flour silos to protect them from being compromised and prevent a "dust explosion", which could have injured responders on site and affected nearby businesses.
"There was also ammonia on the site, but our work ensured that any risk from this was also successfully controlled," noted Simon Barry, assistant chief fire officer at West Midlands Fire Service (WMFS).
"We also stopped the fire spreading to neighbouring businesses – one of which was only a metre away – and tons of paper and wood stored very nearby."
Watch as our drone captures over 100 firefighters, 20 fire engines, five 4x4 brigade response vehicles, two hydraulic platforms and a high volume water pumping unit continuing to work at the scene of a fire on Crackley Way, Netherton.

Read more: https://t.co/bGzxH0yU0b pic.twitter.com/u2hcfW6R6x

— West Midlands Fire Service (@WestMidsFire) September 15, 2023
A full-site evacuation and roll call was carried out on Friday, with everyone accounted for and no casualties reported.
Three days later, and the fire had still yet to be confirmed as fully extinguished, although just one fire engine remained in attendance with drone operations continuing to monitor any hotspots and re-ignition. Crews were said to be likely making precautionary revisits throughout the day.
"This was a complex, challenging and potentially dangerous incident, to which our crews at the scene and several support teams responded admirably," said Barry. "Clearly, the impact on the business and its employees has been devastating. Our firefighters faced multiple risks as they battled to bring the fire under control and to prevent it spreading.
"We evacuated people from the nearby industrial estate, and had contingency plans in place in case we needed to move people out of nearby homes. Staff have since been allowed to re-enter nearby businesses," Barry added.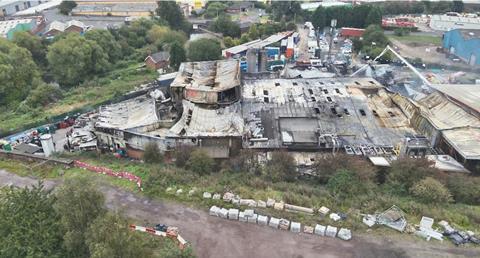 An update on the WMFS's incident report webpage said that teams had been hampered by the collapse of the building, and that work would continue on the site for the next three or four days.
Back in June, another major fire occured at Frank Roberts & Sons bakery in Northwich, Cheshire, with the company able to quickly work on a supply plan to minimise impact on customers.