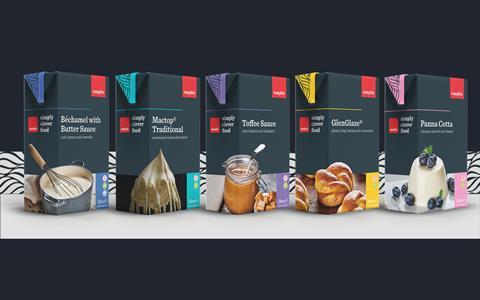 Macphie is switching to Tetra Pak plant-based cartons in a bid to tackle plastic waste.
The bakery ingredient supplier's ready-to-use sauce and dessert packaging will be made up of 86% renewable material, which contain two times less fossil plastic than those previously used, it claimed.
GlenGlaze – a ready-to-use liquid glaze – is the first product to make the switch with 27 others including sweet and savoury sauces, desserts and dairy cream alternatives due to follow suit over the coming months.
The one-litre and 500ml packs have also been redesigned to flag up on-pack recycling instructions.
The move is one of a number Macphie is making to reduce the amount of plastic it uses. In 2019, it improved the recyclability of its O.T.T dessert topping range by moving to white caps from black, following reports that black plastic was harder to recycle.
The business claimed it had cut over three tonnes of plastic from the process by replacing the bottles' previous full printed plastic sleeve with front and back labels.
"The people and places around us matter to Macphie and we're continually building sustainability into our business, weaving in better ways of doing things as we go," Andy Stapley, Macphie's CEO said.
"As a certified B Corporation, we've made a commitment to using our business as a force for good. We have made good headway in reducing plastic and despite the challenges the last year has thrown our industry, it's important we press on with our environmental agenda."
In November 2020, the manufacturer unveiled a new visual identity to reflect its ethos for creating "simply clever food".