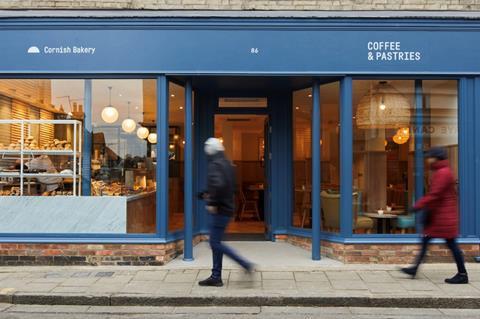 Cornish Bakery has expanded its senior leadership to help realise the ambition of growing its estate to 100 bakeries.
The chain – which currently has 50 branches across England, has bolstered both its board and operational teams, with owner and founder Steve Grocutt headhunting specialists as well as promoting from within the company ranks.
Ralf Goad, previously of Risk Capital Partners, Quilvest and Ernst & Young, has joined the board as finance director, offering experience of corporate restructuring, and commercial and financial due diligence. Stephen Evans-Wrobleski, formerly responsible for national operations and innovation at the Whitbread Bar + Block operation, has been promoted to director of commercial operations.
Jen Rowlands, originally a bakery manager, has risen through the ranks and been appointed to the role of head of operations. Alice Leach recently joined the company as bakery innovation manager. Tina Dicks, who has worked with Cornish Bakery for over 20 years, has been promoted to operations excellence manager, while Victoria Lintern has been promoted to head of human resources.
More roles are currently being created in property, human resources, training and across new bakery openings, the company said.
According to Grocutt, Cornish Bakery is aiming to retain its "strong culture and independence" while pushing for growth. "To keep exceeding all targets, I've brought an enhanced team of experienced innovators and leaders into the business, as well as recognising and promoting our in-house talent," he said. "Together with our colleagues across our bakeries, this committed team is focused on going 'pedal to the metal' right across the UK."
"We've refocussed our brand vision, we're converting our younger target markets, we're swiftly growing our estate, we're innovating across our product range. As an enlarged, team, we're hungrier than ever for growth, and collectively, we're well on our way to achieving our journey towards 100 branches," Grocutt added.