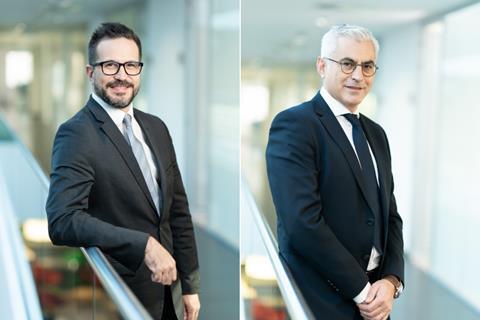 Bakery ingredients supplier Puratos has appointed Pierre Tossut as CEO and Cédric van Belle as chairman of the board, both effective from 1 January 2022.
The duo are tasked with achieving the company's target of increasing turnover to €5bn turnover by 2030.
Tossut is being promoted following 26 years with the company during which time he has been directly responsible for R&D, marketing, product management and sales divisions as well as structuring the group's health and wellbeing approach. Prior to this, he led the expansion of Puratos' worldwide R&D footprint, heading up an international team of 475 people across the globe.
He succeeds Daniel Malcorps, who has led the company for 20 years. Malcorps described his successor as a "proven business leader, with R&D and innovation in his DNA".
"Pierre's experience in driving innovation makes him the ideal CEO to navigate the company through a new era of innovation, wellbeing, sustainability and company-wide growth," he added. "He has a great capacity to understand our customers' needs and an incredible sense for building lasting partnerships all over the world."
Tossut added: "Food innovation is energy for good, and this is why we constantly strive to extend our positive impact with the creation of pioneering and innovative food solutions that promote health and wellbeing, and steadily move businesses, customers, people and the planet forward. We have ambitious plans to achieve much more in the coming years, with the clear goal of reaching a five billion euro turnover by 2030."
Van Belle, meanwhile, was first appointed to the board of the Puratos Group, which is headquartered in Belgium, in 2016 as part of the third generation of shareholders.
He has been managing the family-owned worldwide network of chocolate museums, Choco-Story, since 2003. He is an active member of several committees within the group and is chairman of the Next Generation Cacao Foundation, a Puratos charity initiative with a mission to contribute to the social, economic, and environmental development of cocoa farmers and communities. He replaces outgoing chairman Eddy Van Belle.
"One of the strengths of family-owned companies like Puratos is thinking in terms of generations rather than quarterly results," Cédric Van Belle said. "This is why we have actively committed to an operating model that goes beyond the creation of economic value – and is also sustainable, respectful and balanced."
He noted that Puratos was implementing plans to achieve CO2 neutrality, minimise water usage and reduce waste and already sources its raw materials "responsibly" with the aim of ensuring a "safe and stable revenue for farmers".