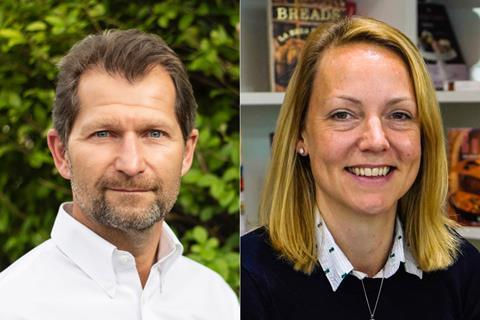 St Pierre Groupe has boosted its board of directors with two new hires, both from The Happy Egg Co.
David Wagstaff, previously president and chief operating officer at the egg supplier, joins as board director while Jen Danby, former chief marketing officer, has been appointed international marketing director at St Pierre.
The double appointment, according to St Pierre, is a 'clear signal that growth in the USA market is key' to its brand strategy for 2021 and beyond. Its portfolio includes St Pierre, Baker Street and Paul Hollywood.
Both recruits bring with them extensive knowledge of international markets. In the US, Wagstaff (right) created and launched The Happy Egg Co, introducing a new production model and building a national branded business of some $40m in only four years.
Prior to that, he was leading partner in a consulting firm specialising in food and drink, responsible for several international projects that saw him operate in China, South Africa, Europe and the US for brands spanning dairy, frozen and nutrition sectors. He has also worked at McCain Foods and Dairy Crest.
In his new role, Wagstaff will guide the business teams enabling the St Pierre brand to continue its growth across the United States.
"St Pierre is a brand experiencing dynamic growth – in the USA it's up 57% year on year. The team have already achieved amazing results, so with some extra direction, there is genuine excitement around and no limit to what this brand can do," he said.
Danby (right), meanwhile, will head up the recently expanded marketing department with a focus on brand-building both in the UK and US markets; she will be responsible for a strategy designed to grow brand awareness and educate consumers through advertising, PR, digital media and shopper marketing.
"It's an incredibly exciting time to join the business. Its growth has been phenomenal this year, especially considering the challenges faced due to the pandemic. There's a great team in place and real momentum behind each of the brands to continue growth – with ambitious targets in place for the next three years," she said.
Paul Baker, St Pierre co-founder, added: "We have three brilliant brands in our portfolio and an incredible opportunity – particularly in the US for St Pierre – to build brand identities that connect with consumers. Our team has always been our greatest strength and now we have an incredible senior team in place to direct strategy and drive the growth of which we know we are capable."
Other recent hires include three commercial managers who joined the firm in May.