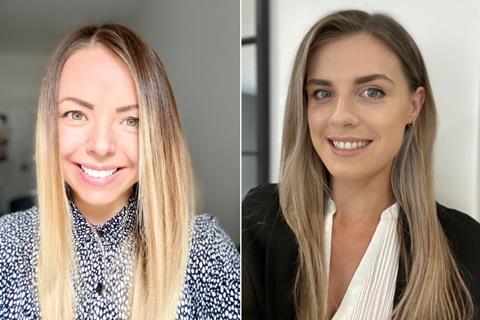 Manchester-based St Pierre Groupe has expanded its marketing team with two new managers.
Sam Elmidoro will join the team as content, social & community manager. She has over fifteen years of experience and previously managed the corporate social media channels for Manchester Metropolitan University, specialising in digital content strategy, management, creative output and analysis.
In her new role, Elmidoro will lead all digital communications within the business and its brands St Pierre, Baker Street and Paul Hollywood in the UK and internationally.
Meanwhile, Georgia Dales, who was previously brand manager at William Jackson Food Group, has been appointed brand activation manager.
Dales will provide communications to help drive brand awareness and sales of St Pierre's brands.
Since the beginning of lockdown, the company said it has grown its team by 33% with 18 new hires.
"With ambitious global growth plans, having a nimble approach to business is vital. This includes utilising video technology to continue our large-scale recruitment drive even during the health crisis and as a result, our fantastic team has grown by a third," said Paul Baker, founder of St Pierre Groupe.
"Investing in talent like Sam and Georgia and having a passionate, dedicated team are two important ingredients for being a successful market leading business at home and abroad."
In 2019, St Pierre achieved a 30% year-on-year growth, and has seen demand for its brands increase exponentially over the past six months, it added.
"We are delighted to welcome Sam and Georgia to our growing team. They bring with them a wealth of experience and diverse skill sets, which will play an important part in helping us to continue on our successful journey and meet our ambitious targets for growth," added Louise Waggett, marketing controller at St Pierre Groupe.