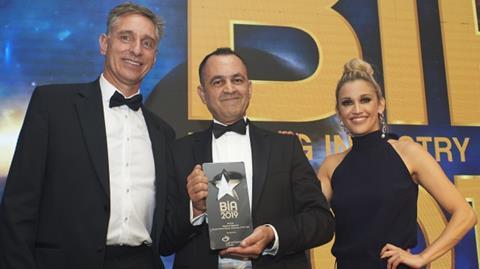 Years of work building up the Marks & Spencer in-store bakery offer was recognised and rewarded on the night of the 2019 Baking Industry Awards ceremony
Consistency is a cornerstone of a strong bakery offer, and it was the ability of Marks & Spencer (M&S) to deliver that in quality, ranging and presentation across its estate which so impressed the 2019 Baking Industry Awards judges.
Bakery has been a focus for the retailer in recent years, with M&S working to make its in-store operation more efficient and customer-facing. Activity has included changing location of equipment in the bakery, altering staffing hours to ensure there is a trained baker to serve and help customers, and maintaining availability of fresh products.
The business also refreshed its point-of-sale (POS) material to give it a "warmer tone of voice", and launched a new customer information system, ensuring staff have access to real-time product information by scanning a shelf-edge ticket.
"We have been working hard in recent years to build a market-leading product offer and service in-store," explains senior food technologist Mark Waples. "We felt in really good shape to enter the awards."
Quality and innovation are key to M&S food, and this is no different when it comes to bakery, explains Waples. "We work tirelessly with our suppliers and brilliant store teams to constantly maintain and improve in all areas. We have introduced fantastic new products and driven new systems through to our stores, which our bakers have been executing brilliantly."
Since winning, the retailer has launched products including the Cretzel – a croissant and pretzel hybrid, Marmite & Cheese Twists, and doughnut/yum yum hybrid the Yumnut (pictured left).
M&S saw winning the award at last September's ceremony in London as the culmination of hard work over the past few years. "It was brilliant news and a brilliant night," says Waples, adding that the impact on many of the store teams has been "great".
"There is a real sense of pride showing through," he says.
The retailer adds it would encourage others to enter the 2020 Baking Industry Awards. "These awards are such a great place to meet people, network and see real innovation," says Waples.
For those businesses that enter, he suggests they focus on the customer and being different. "In tough times, we all need to stand out in the crowd and offer a point of difference in our products and in our service – be the best you can every day.
Sponsor's comment:
"Stores offered excellent quality and presentation, with impressive staff knowledge of baking process and products. With strong NPD, waste reduction and stock control, M&S is a worthy winner."
Peter Drew, marketing director at sponsor Lantmännen Unibake