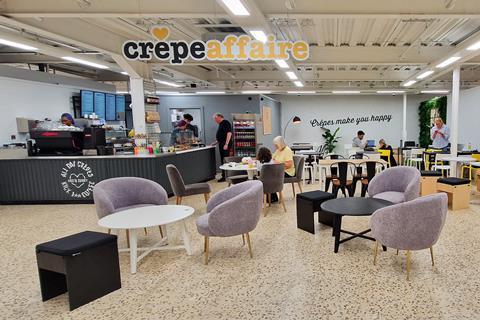 London-based chain Crêpeaffaire has partnered with Tesco to launch a concession at the retailer's Extra store in Borehamwood, Hertfordshire.
The new ground floor outlet was opened earlier this week and adds to Crêpeaffaire's estate of 14 shops.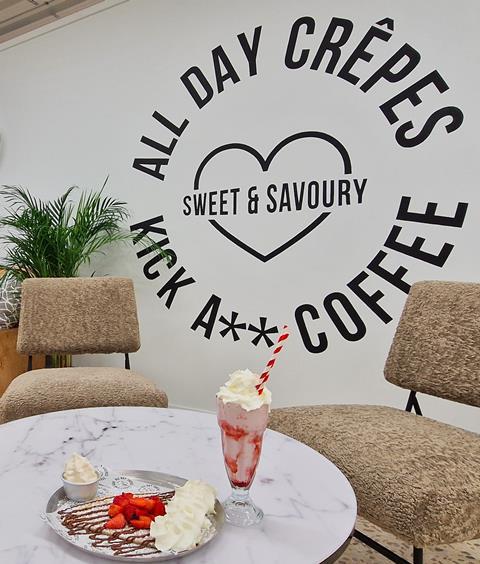 The business serves a range of signature sweet and savoury crêpes, which come in a choice of either wheat flour crêpes or gluten-free organic buckwheat galettes. There is also a selection of vegan options, alongside the likes of croissants, waffles, mini pancakes, and beverages including barista-made organic coffees and real thick shakes.
Menu items are available for breakfast, lunch and dinner, either for eating in, on the go or local delivery.
"The partnership with Tesco, one of the UK's most respected brands, is a natural fit for us," said Crêpeaffaire founder Daniel Spinath. "We are absolutely delighted to bring Crêpeaffaire to the Tesco shopping experience and to the local residents, workers and students in Borehamwood."
The new opening is being celebrated with giveaways over the coming few weeks, such as a year's worth of free Crêpeaffaire visits to a handful of lucky customers.
Having opened its first shop in London in 2005, Crêpeaffaire has expanded to operate a variety of locations and formats from as far south as Brighton and northerly as Newcastle. It has also proven popular overseas, with 10 sites in Saudi Arabia, four in Kuwait, and one in the Netherlands.
The company states its philosophy is to position crêpes as an indulgent yet healthy meal and snack option for the whole family. Alongside its retail estate, it also sells DIY crepe mixes online.
Bakery buddies
Retailers continue to appear keen to expand their food offerings and enhance in-store customer experiences through new bakery formats. A few months ago, Sainsbury's teamed up with Greggs to open an outlet inside the forecourt of its Biggleswade petrol station in Bedfordshire.
Greggs has since announced plans to open up to "half a dozen" standalone cafes in Sainsbury's stores by the end of the year, as part of its ambitious growth development plans.