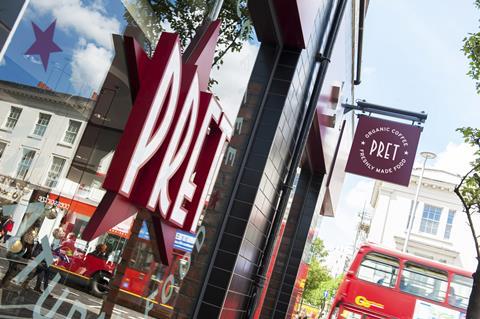 Pret A Manger is to pilot four new shops in Tesco stores as part of its transformation plan.
The first shop, set to open in June, will be a concession in the Tesco superstore in Kensington, London with three further openings planned for later in the summer.
All shops will serve food and organic coffee and teas, all freshly prepared in Pret's on-site kitchens throughout the day.
It comes after Pret warned of "material uncertainties" that could cast "significant doubt" over its ability to trade as a going concern. The business closed 39 outlets in the last year as well as 33 shops under the Eat brand, which it purchased in 2019. It also made 3,771 of its employees redundant.
Pano Christou, Pret CEO, said the firm set itself the challenge to bring Pret to more people.
This included the launch of its first-ever supermarket range with bake-at-home croissants and granolas available in nearly 700 Tesco stores across the country and via the retailer's website. Sales of the new range had "already exceeded targets", Pret said.
"Now we're taking this further and bringing the experience of Pret to select Tesco stores, making it even easier for customers to enjoy our freshly made food and organic coffee as part of their regular Tesco shop," added Christou.
"As the UK emerges from lockdown, this partnership with Tesco is one way in which we're transforming our business model to adjust to a new way of living and working. We look forward to working with the Tesco team on this partnership."
In October 2020, Pret also announced a new partnership with Moto which it said would enable it to expand its motorway service estate to three shops in the UK. The first shop at Cherwell Valley opened in December 2020, followed one at Moto's new Rugby services which opened in April.