Innovative flavours, novelty designs, and twists on tradition are abundant in Tesco's festive line-up this year.
The retailer is the first major supermarket to unwrap its Christmas range. It features indulgent savoury delights, including a monkfish wellington and pigs in blanket-topped pie, alongside reimagined Christmas classics, such as Golden Mince Pies.
There's also a feast's worth of desserts to choose from as the retailer brings festive cheer by embracing warm spices and chocolate.
Here, British Baker takes a closer look at what Tesco has on offer for Christmas 2023: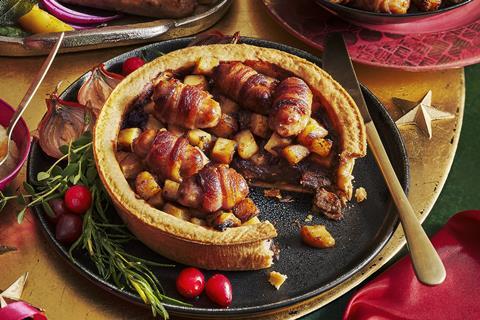 Pigs in Blankets Topped Steak Pie
Pigs in blankets can improve almost all savoury Christmas fare. With this in mind, Tesco has crowned a succulent steak pie encased in crispy puff pastry with mini pigs in blankets.
Rsp: £4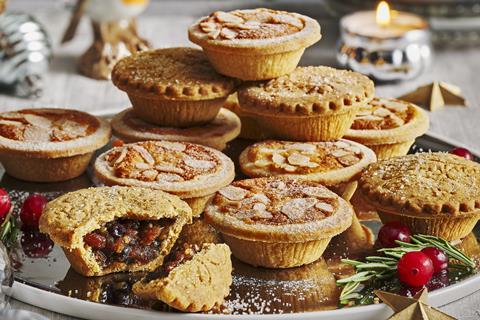 Golden Mince Pies
Tesco has sought to make mince pies more indulgent this year. Its Golden Mince Pies, part of the Finest range, comprises shortcrust pastry made with muscovado sugar for a 'richer' flavour. Taking things to the next level, the cases are filled with spiced mincemeat featuring apple and calvados. Tesco has also added a fluffy and sweet almond filling to a mince pie for a twist on the classic. Part of the Finest own-label line-up, its Frangipane Mince Pies have a buttery, shortcrust pastry and traditional mincemeat filling.
Rsp: £2.50 (Golden) and £2.25 (Frangipane)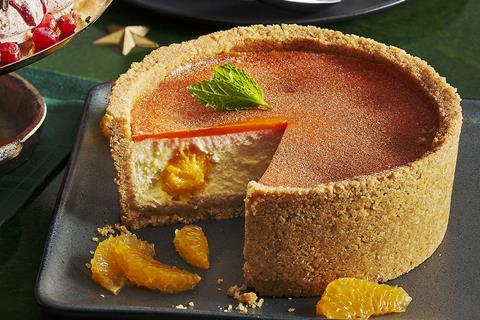 Winter Orange Cheesecake
Part of Tesco's Finest range, this features a ginger-spiced digestive crumb filled with creamy baked orange and mascarpone cheesecake, with pools of orange sauce. The cheesecake is finished with an orange glaze and amber lustre.
Rsp: £13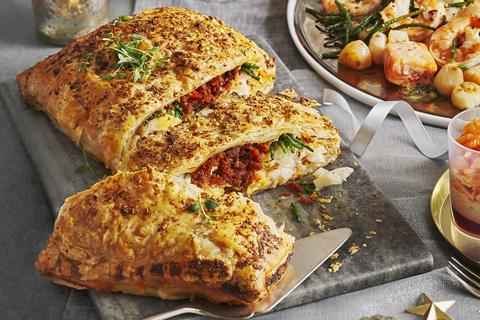 Monkfish & Chorizo Wellington
Tender monkfish tails filled with sundried tomato and lemon, with chorizo and samphire, are wrapped in a sweet pancake for this festive centrepiece. The whole thing is then encased in a buttery puff pastry and finished with a chilli & coriander ciabatta crumb.
Rsp: £25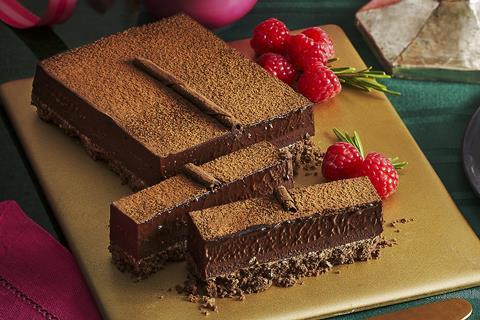 Dark Chocolate & Honeycomb Ganache Bomb Bar
These bars see decedent Belgian chocolate and honeycomb ganache layered onto a crunchy digestive biscuit and crushed honeycomb base. They're topped with a chocolate cigarillo and hand dusted with cocoa.
Rsp: £13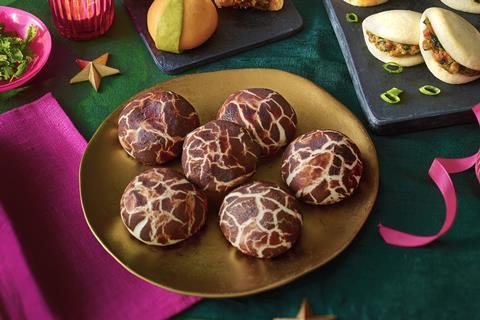 Steamed Mushroom Buns
A new take on steamed buns comes in the form of these fluffy mushroom buns. They have a mushroom and hoisin centre. Other interesting looking steamed buns come in the form of Steamed Duck & Orange Buns. Shaped and coloured to look like oranges, inside lies a rich duck and vegetable filling flavoured with tangerine.
Rsp: Both £4.50 for six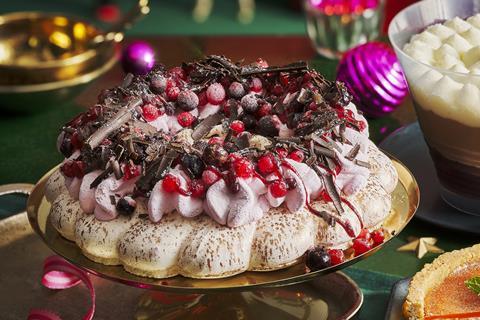 Mulled Berry Meringue Wreath
Tesco describes this festive dessert as a crisp and chewy meringue wreath dusted with amber lustre, topped with mulled berry cream and hand-placed berries. It is then hand-drizzled with mulled berry coulis and finished with dark chocolate shards and a sweet snow dusting.
Rsp: £6.50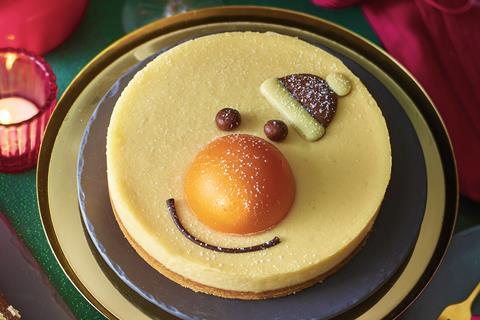 Smash Nose Snowman Cheesecake
Fun for all the family! This interactive dessert has a smashable nose with hidden stars inside. The dome sits atop a white chocolate cheesecake on a crumbly biscuit base.
Rsp: £7.50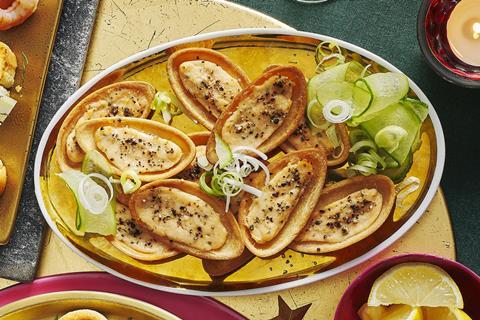 Smoked Salmon & Cracked Black Pepper Shells
These edible baked pastry shells are filled smoked salmon cream and crushed black pepper. Tesco has also unveiled Mini Coquille Scallop Pastry Shells which has scallops, salmon, and prawns in a white wine sauce, topped with creamy mashed potato and cheese in a pastry shell.
Rsp: £4.50 for 10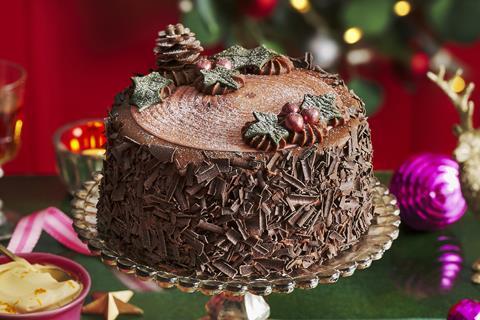 Chocolate Log Cake
Offering an alternative to traditional Christmas cake, this celebration cake is styled to look like a tree trunk. It features a chocolate cake filled with chocolate flavoured buttercream, covered in milk chocolate, and finished with a milk chocolate ganache, icing sugar dusting, and edible decorations.
Rsp: £17
Stuffing Roll Selection
A vegan-friendly selection of seasonal stuffing inspired rolls, including chestnut & cranberry, apricot, sage & onion, and apple.
Rsp: £2.50 for nine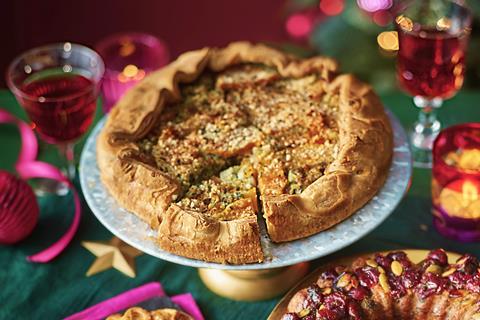 Roasted Butternut, Spinach & Sage Galette
For a vegetarian centrepiece, Tesco is serving up butter puff pastry filled with crème fraiche and spinach sauce topped with extra mature Cheddar cheese, and roasted butternut squash – all finished with a herby crumb.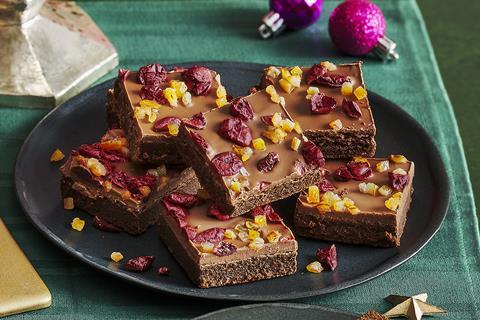 Cranberry and Orange Brownie Slices
A warming twist on a traditional chocolate brownie, these sliced are infused with winter citrus orange zest and topped with dried cranberries.
Rsp: £3.50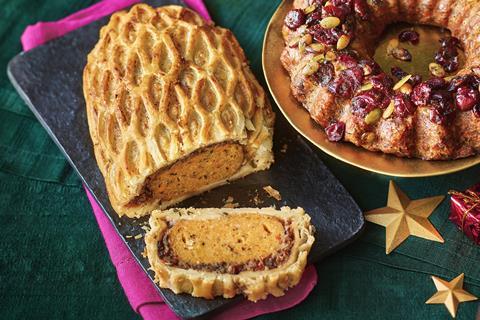 Roast Butternut Wellington
Part of Tesco's vegan-friendly Plant Chef range, this wellington sees roast butternut squash with pea protein, and mushroom & herb duxelles, hand wrapped in flaky puff pastry.
Rsp: £5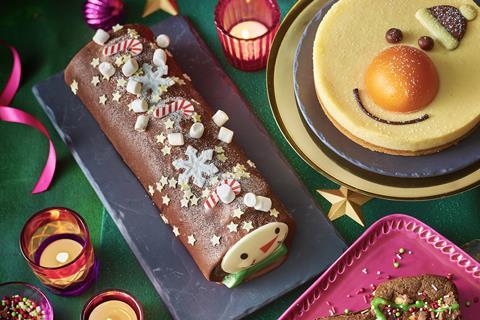 Snowman Swiss Roll
This festive take on a chocolate Swiss roll sees chocolate sponge filled with chocolate flavoured buttercream, enrobed in milk chocolate. The cake is topped with mini marshmallows, chocolate, stars, snowflakes and a decorative snowman face.
Rsp: £7