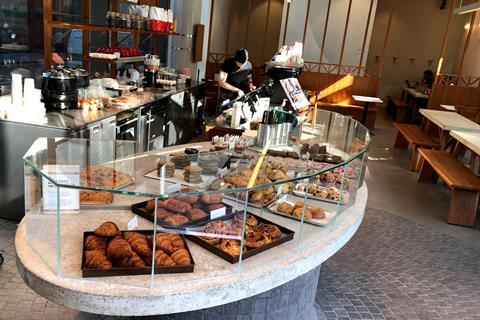 Gail's Bakery has opened a new site in London Blackfriars.
The 151 sq ft site – which is located at 1 Blackfriars road, London SE1 9JU – opened to the public last week. It has 50 covers with indoor and outdoor seating, with opening hours of 7:30am to 4:30pm.
Gail's menu items include pastries, such as Soho buns, cinnamon buns and berry & custard brioches, as well as sourdough loaves, baguettes, ciabatta and a selection of cakes.
"We feel so lucky to still be opening bakeries at a time like this," said Gail's Bakery CEO Tom Molnar.
"Blackfriars is such a vibrant community with a strong eye for modern design and living. Our bakers and baristas can't wait to meet our neighbours."
Back in May, Gail's opened a new location in Windsor as chairman Luke Johnson said at the time on Twitter: "Bugger the crisis – we advance! Onwards!"
All of Gail's bakeries have reopened to offer eat in, takeaway, home delivery and click and collect, except for the Soho and Bloomsbury ones which it hopes will be back up and running soon.
In May it even rolled out a home baking range, with yeast, eggs and flour among the items available to customers during lockdown.