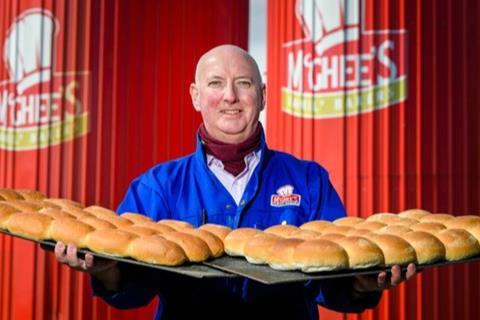 Glasgow-based McGhee's Bakery has secured a contract to supply five new bread lines to over 50 Asda stores across Scotland.
The newly listed products, all from the family-owned baker's morning goods portfolio, are: handmade Crispy Rolls (four-pack), Soft Morning Rolls (six-pack), Brown Morning Rolls (six-pack), Soda Scones (four-pack) and Well Fired Rolls (four-pack).
McGhee's Crispy Morning Rolls are a traditional handmade roll based on a sourdough recipe for a 'very unique' flavour and texture, according to Dionne Pocobelli, group sales manager at the bakery.
"This opportunity allows us to share some of our favourite products with Asda shoppers across Scotland," Pocobelli said. "We are known as a supplier of the Glasgow favourite 'crispy roll', and in fact, all our rolls have become increasingly popular across Scotland."
Heather Turnbull, Asda's regional buying manager, Scotland, said it was 'brilliant' to add the McGhee's products to the supermarket's shelves.
"Our customers love to see local suppliers in store," she added. "We are always on the lookout for new and delicious products, and we think our shoppers will enjoy this selection of new bread rolls from the McGhee's range.
"Bread rolls are a firm favourite in Scotland and it's great to be able to offer these products from a family-owned bakery."
McGhee's, now a fourth-generation bakery, was established in 1936 and currently employs over 300 staff.