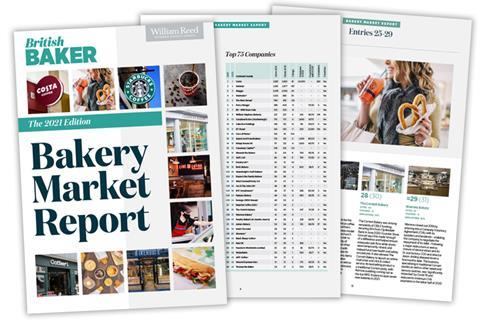 Shop closures, mass redundancies and revenue loss are among the impacts of the pandemic and resultant lockdowns on the UK baking industry revealed in the Bakery Market Report 2021.
The free report, described as the authoritative tracker of the out of home bakery market, lists the top 75 companies that sell baked goods as a primary element of their food offering in a non-supermarket retail, food-to-go or eat-in format benchmarked by the number of UK outlets operated.
While Costa Coffee remains in the number one spot, there's been significant shuffling below with some companies climbing the rankings while others drop down and some, such as Coffeesmiths Collective and Ingles, falling off entirely.
Notably, several firms entered into company voluntary arrangements (CVA) with creditors to ease the paying back of debts at a time when sales were significantly reduced.
New for this year, the report also takes a closer look at the top 75 companies to identify any major changes in their operations, bestselling products, and NPD as well as how they adapted amidst the pandemic.
"The restrictions of no dine-in, rule of six, two metre social distancing and 10pm curfews meant that operators enjoyed just 11 weeks of 'normal trading' over the entire year," said Sarah Coleman, insight & communications director at Lumina Intelligence.
"Food to go was slightly insulated due to its very nature of being low contact and transactional, as well as lower ticket than other eating out occasions. However, the sector still declined by 45.5% in 2020, to a value of £11.6bn."
As a result, Lumina predicts that the eating out market will only recover to its 2019 value in 2022.
However, many businesses – including Greggs, Cooplands and Tim Hortons – are ploughing ahead with plans to expand their estates in 2021 and beyond.
What's more, there are a handful of new entrants to the Bakery Market Report this year, including Tim Hortons, as well as Doughnut Time and family firm Truffles Bakery. And, there are more up and coming bakeries making a play for the UK market – Cinnabon is one such business.
For all this information and more, download the Bakery Market Report 2021 for free by following this link.