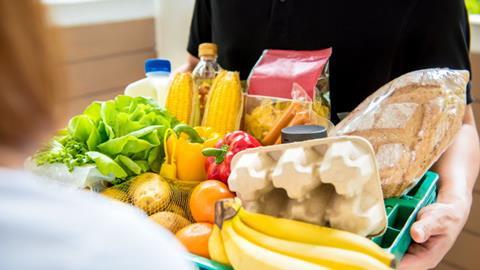 Bakery businesses are launching delivery services, either locally or nationally, to continue to thrive during the coronavirus pandemic. Here, they discuss how to get started.
"Transforming our business into a food delivery service was something we never anticipated or planned for," explains Sara Christey of Edinburgh's The Beach House Café & Bakery.
Like many bakery businesses, the bakery has adapted to trading under coronavirus and, with the help of volunteers, is providing essential groceries to consumers who cannot get to the supermarket.
A small team are delivering boxes of food to doorsteps by bike, and the business is also offering a pick-up service that involves minimal contact.
"Our local community have supported us for years and we thought this was an opportunity to give something back – we are on a very steep learning curve and adding new, high-quality products every day,"
"Our local community have supported us for years and we thought this was an opportunity to give something back – we are on a very steep learning curve and adding new, high-quality products every day," she adds.
With vulnerable or self-isolating consumers unable or unwilling to leave their homes or visit supermarkets, many bakeries are working with their suppliers to offer groceries – such as cheese, milk, meat, flour and eggs – alongside their bakery products.
Scarborough-based Cooplands (pictured) has combined some of its suppliers' products with its own baked goods to create the Food Parcels service. Priced at £35 including delivery, the parcels contain a selection of essential groceries, bread and sweet treats such as flapjacks.
It took Cooplands three days, working with agency Savvy Marketing, to develop a digital platform connected to its website that could take orders and payment online, with central management similar to how the business manages orders from its shops.
"Partnering with delivery companies is expensive, so leveraging owned assets is important," says Cooplands CEO Belinda Youngs. "Bakers are not delivering main meal solutions and generally have a lower average order, so efficient processes and restricted, densely populated geography are key success indicators."
Important things to think about are product ranges, how and when orders will be taken, the notice given for an order, delivery times and if businesses can produce the items ordered, advises Neville Morse, managing director at Janes Pantry.
Bakeries also need to decide if they are local, regional or national, suggests Laurence Smith, owner of Fatherson Bakery. Options include using existing vehicles currently available in the business, working with a distribution partner or investing in a fleet.
Smith says having a core project team and strong e-commerce platform was critical to his business launching its own grocery delivery website in a week.
London-based Today Bread (pictured, right) set up online ordering through the Square Online Store system for a delivery and collection service.
"It's all about adapting and focusing on what's possible or can be affordably accessed," says Today Bread founder Alexandre Bettler. "Some of our team have brought in or sourced bikes to get orders to customers. You can either try to keep everything in house, or bring in third-parties to fill the gaps you can't provide."
Working with a third party allows businesses to tap its customer base and expertise, adds a spokesperson from Just Eat. To work with an aggregator, however, businesses need paperwork to show proof of ownership, that the business address is registered with the council and Food Standards Agency (FSA) or Food Standards Scotland (FSS). To sign up with Just Eat, for example, they would need an FSA rating of three or above, or a Pass in Scotland.
The decision to deliver on your own or go through an app is entirely individual, says Romy Miller, commercial director at Gail's Bakery, which has an online shop selling produce and groceries for home delivery and click & collect.
"There are benefits to retaining the end-to-end customer relationship, but there are also challenges with trouble-shooting last-mile issues, when they happen. Going through an app has fees attached to it, but there is a benefit in ready-and-waiting mass customer awareness."
But whatever approach a business takes, offering delivery can give bakers access to new custom.
"The current Covid-19 period has given rise to a new delivery marketplace – there are so many great things available that we could never access direct to our homes in the past," adds Miller.