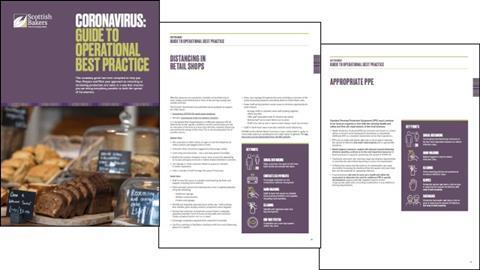 As lockdown measures ease, Scottish Bakers has launched a guide designed to help bakers reopen.
The trade group said the guide had been compiled to help bakers 'Plan, Prepare and Pilot' their approach to restarting or increasing production and retail operations while doing everything possible to limit the spread of the coronavirus.
It brings together elements of the official advice and guidance into a single document. Topic areas include risk assessment, practical considerations, distancing in retail shops, appropriate PPE, what to do when staff display symptoms, and a list of essential resources.
Scottish Bakers pointed out that the bakery sector employs 12,000 staff across Scotland and that 80% of members had furloughed staff, while many had closed for business.
"The pandemic brought unprecedented pressures to bear on our members as restrictions on the economy took effect," said Scottish Bakers chief executive Alasdair Smith.
"While the majority of our members were able to continue production during this time, we know many closed completely or limited production because of the challenges of implementing the required social distancing measures and concern for the wellbeing of their staff and customers.
"As restrictions begin to ease, more of our members are looking to restart or increase production and retail operations, which is why we've brought together the essential elements of the official advice and guidance into this document for members."
The Craft Bakers Association has also developed a guide to health and safety during the pandemic.