"It was time to change our business model and prepare to go in and out of lockdowns," explains Twelve Triangles co-founder Rachel Morgan on the bakery's decision to open a new site in Edinburgh.
Known as a food store, the 560 sq ft site on Easter Road is centred around local produce and aims to help customers access groceries and baked goods without trekking miles to a supermarket.
Like Twelve Triangles' four other sites, bakery is still at its heart. Joining its sourdough loaves, cakes, cookies and pastries are an enticing range of items including pork pies, cinnamon buns and chocolate & hazelnut knots.
Chef Joe Haworth is also whipping up focaccia sandwiches, pâte, dips and sauces to provide ingredients that customers can take home and make a meal out of. Fresh pasta and pesto are also available at the weekend.
"We're very lucky that we're predominantly retail, continuing to trade and that people are quite keen to stay in their locality and shop with us. We're thankful to still have a business and keep our staff employed," Morgan says.
But it wasn't all smooth sailing. When lockdown hit, Morgan and co-founder Emily Cuddleford made the decision to close two of its four stores. As the shops moved entirely to takeaway, the duo had to accept its new status as a takeaway/retail business, rather than a sit in café.
"It's difficult because we feel uncertain and fragile. We're wary about making a big commitment to anything at the moment"
The main bakery in Leith and the Duke Street store were used for packing for online sales. A local delivery service with bicycle couriers was also set in motion – a service which is still available.
Following a drop in wholesale customers and a boost in bread takeaway sales, Twelve Triangles decided to set up an online shop.
"We didn't really have an alternative. Our customers in restaurants and hotels disappeared overnight. It's difficult because we feel uncertain and fragile. We're wary about making a big commitment to anything at the moment, because things still feel a little bit perilous," she adds.
It was no mean feat, seeing as Twelve Triangles had only ever done in-house logistics and deliveries. They set up the web shop themselves, using e-commerce firm Shopify. Luckily, the new venture grew quickly.
Though some shop staff were furloughed, employees on the bakery side have worked all the way through lockdown and all five stores are now open.
Safety measures have been put in place, including social distancing, constant hand washing, one-way systems and serving customers from the door. A purpose-built hatch in the new store means that customers can come to the window and take away produce without setting foot inside.
Looking to the future, the team want to venture into more pop-up takeaway dinner events, as well as hot food takeaways for its fresh pasta on the weekends. Morgan has been developing Sicilian chickpea fritters called Panelle, which they hope to bring to the fore in the New Year.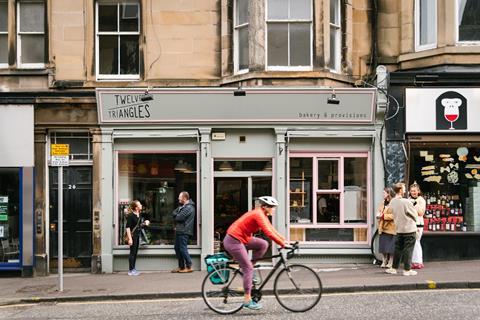 Easter Road: Originally envisaged as a restaurant, the coronavirus pandemic highlighted the demand for a food store. It emphasises locally sourced produce for customers to cook at home, as well as prepared salads, sandwiches and pies.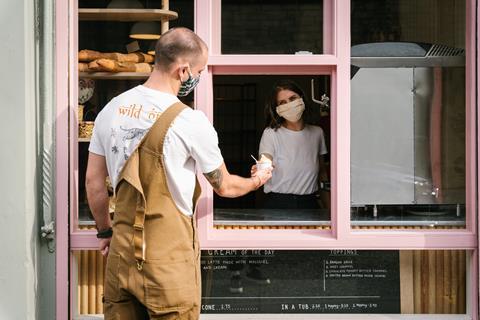 Delivery hatch: Coffees and takeaway dishes are served through a special hatch onto the street, with affogato (soft served ice cream topped with a shot of espresso coffee) made with organic milk from Mossgiel Farm.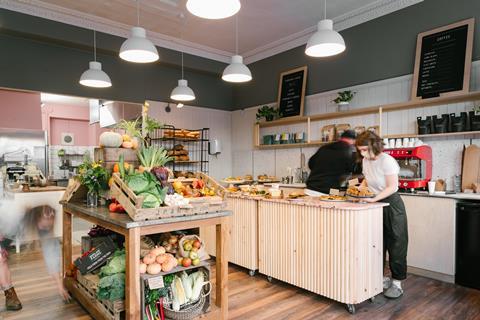 Interior: The new site will offer the bakery's usual baked goods such as sourdough, cakes and pastries, along with homemade takeaway dishes and fresh produce.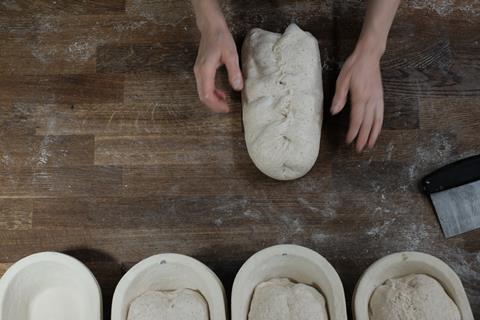 Kitchen: The open-plan kitchen is headed up by chef Joe Haworth. Connor Stewart from the Leith bakery will develop a range of pastries, cakes and cookies, specifically for the new site.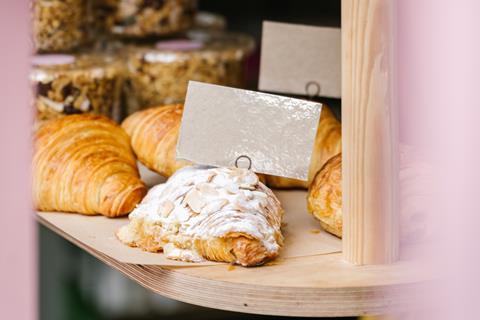 Almond croissants: This viennoiserie has proven to be a bestseller at the Easter Road store. Freshly baked each day, they are brushed with dark rum syrup before being filled and topped with a rich almond frangipane and covered in almonds.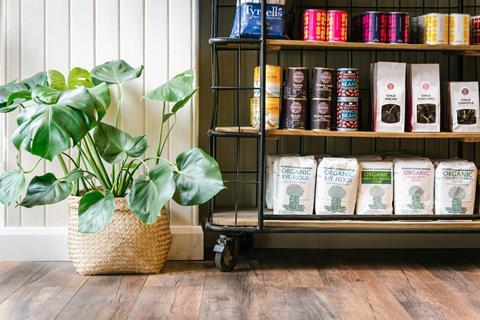 Grocery shelves: Produce includes fresh meats, charcuterie and cheeses from Leith's East Coast Cured and Errington Dairy, organic vegetables from Pittormie and East Lothian's Phantassie Farm and honey from The Edinburgh Honey Company.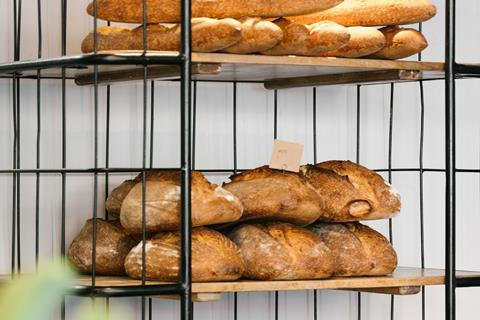 Sourdough: Twelve Triangles is famed for its sourdough loaves, comprising white, Khorasan, seeded, porridge, wholemeal and charcoal variants.