A waft of sweet cinnamon lets shoppers know they're near Gwyn's Bakery in Horsham. The heady scent is the result of the hundreds of cinnamon buns produced from scratch here each week.
"I'm immune to the smell of cinnamon," owner and head baker Ben Lines laughs, admitting the treats were a late addition to the menu as he geared up to open in November 2020. Late but great – cinnamon buns outsell bread and account for nearly a quarter of the business' retail sales.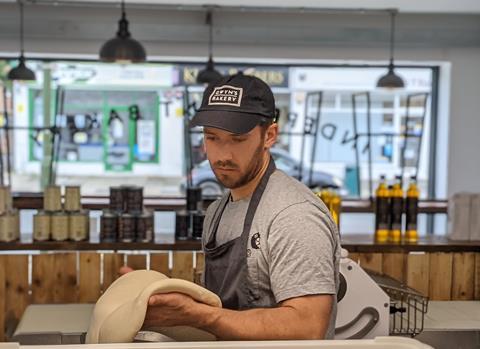 Those who find themselves at the bakery are greeted by a hive of activity. The open-plan setup of Gwyn's Bakery, named after Lines' great uncle, means customers can see the team preparing the loaves, pastries and buns. This, he adds, "forces us to work to the best standards we can" and lends itself to a calm and communicative workspace different from some of the ones he's known during his career in hospitality.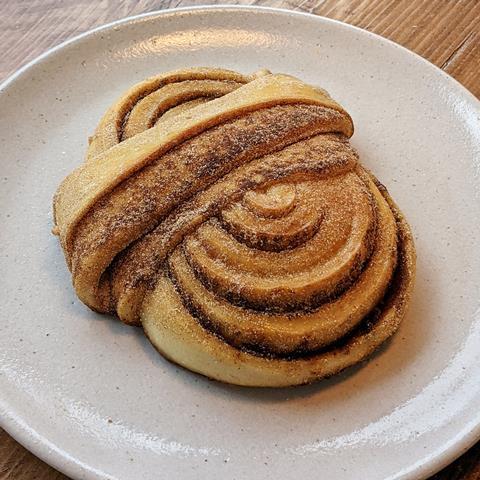 It also helps educate shoppers, some of whom "were a bit shocked by the prices" at first. Handcrafted sourdough loaves start around £4, croissants from £2.30 for a plain one and rising depending on the fillings and toppings while the renowned cinnamon buns cost £3 each.
"Bread isn't seen as a valued product," he explains. This is a perception Gwyn's is trying to dispel by using "the best quality ingredients we can afford". Most of the flour used is sourced from Wessex Mill in Oxfordshire, although a bit of Canadian wheat is used for certain products, while Pump Street is the chocolate supplier of choice and local business Horsham Coffee Roaster provides the coffee. The fruit for the tarts and pastries is sourced seasonally and offers up a spot of excitement in the form of specials. Using such high-quality ingredients ensures Gwyn's products live up to their premium price, believes Lines, and means "there's no comparison" with those sold in supermarkets.
Many locals agree, with queues a frequent sight at Gwyn's when it first opened and an impressive weekend trade now, plus a wholesale operation which sees the business supply five-star hotels and vineyards outside of the town. Lines describes the response as "warming and humbling", particularly as he didn't know what to expect opening his first business amid a pandemic. "I really believe that lockdown made us get to where we would have been in six months to a year almost instantly," he says.
However, like many other bakeries, Gwyn's is facing increased costs from suppliers and while they haven't been passed on to customers just yet, they may be in the future. "Prices are just going to increase and increase," he says. "It's one of those things where part will probably be passed on to the customer and part will be swallowed by the business."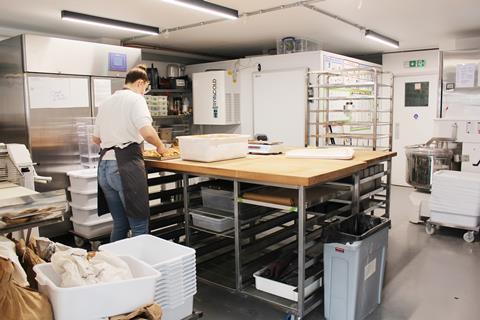 Another increasingly common challenge Lines has first-hand experience of is hiring skilled bakers. "It's been nigh on impossible to recruit," he says, adding that some job adverts have had zero interest. He believes this, in part, is down to the bakery's location in which there is limited competition meaning there are fewer bakers looking for new opportunities. Thankfully a baker has been found and will add to the current team of three, which includes a trainee, soon.
More recruitment could be on the cards if Lines' plans for Gwyn's To Go come to fruition which he hopes to have dotted around towns and villages in Sussex. In this case, the Horsham site would remain the flagship and the others would allow for a grab and go 'hole in the wall' operation where shoppers could grab a coffee and a pastry or even a loaf of sourdough. "We don't want to be a massive chain," he notes, but is aiming for steady organic growth.
Some of this will also be supported through the addition of extra capacity in the Horsham site, which currently operates with a three-deck Polin oven for bread and Tom Chandley oven for pastries.
Regardless of the business' size, Lines remains committed to making the best products he can daily because "you never know who will walk through the door".