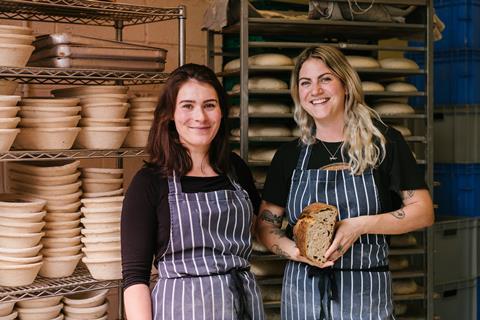 Scottish bakery Twelve Triangles has opened a new food store on Easter Road in Edinburgh.
The 560 sq ft site will offer baked goods, takeaway dishes and fresh produce, as well as soft serve ice cream. It is open from 8:30am-6pm on Wednesday to Sunday.
Founded by Rachel Morgan and Emily Cuddleford, Twelve Triangles has four other bakeries across the city.
The store emphasises produce for customers to cook at home or prepared sandwiches, pies and salads, alongside its popular sourdough, cakes and pastries.
Coffees and takeaway dishes are served through a hatch onto the street, with affogato – soft serve ice cream topped with a shot of espresso coffee – already proving popular, it added.
"Our Easter Road site was originally planned as a restaurant but times have changed and we're delighted with our new food store. We're still able to use the large kitchen and the expertise of our chefs, Joe and Connor. We're placed at the heart of burgeoning food and drink scene in this part of the city," said co-founder Emily Cuddleford.
The open-plan kitchen is headed by Joe Halworth, who is currently developing dishes for the store, as well as seasonal pop up dinners to be served through the street hatch. These will include a range of pies, including a classic mini pork pie, as well as weekly specials such as pumpkin, feta & tomato to braised goat, mint, oregano & preserved lemon.
Connor Stewart, who has moved from Twelve Triangle's Leith bakery, will be developing a range of pastries, cakes and cookies.
"While really good baking remains at the heart of Twelve Triangles, this new store celebrates our love of an even greater range of wonderful food. There's a real joy to this project as we're able to explore new flavours, techniques and dishes whilst celebrating the local producers we treasure," Cuddleford added.
The bakery launched a home delivery service across Edinburgh during the lockdown period, primarily using bicycle couriers.